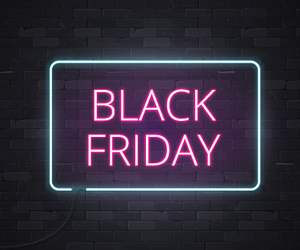 Black Friday traditionally consists of lines filled with hundreds of shoppers looking to capitalize on Black Friday deals. However, 2020 has been the furthest thing from traditional. Due to global circumstances, many companies are still seeking measures to safely and efficiently re-open their doors. Multiple retail giants and department stores have already made the decision to close their doors on Thanksgiving Day to prevent herds of shoppers from physically visiting their stores. While closing stores on Thanksgiving Day certainly deviates from standard Black Friday practices, marketing trends have shown an increase in digital sales over the last three years. Remain up to date with the latest expectations ahead of Black Friday by signing up with FlexOffers.com.
---
'Tis The Season For Content Prep
Publishers can now further inhance their visibility through the utilization of product tracking links and banners contained in FlexOffers' Publisher Pro Platform. Coupling Black Friday and Cyber Monday content with pertinent promotional materials is the perfect way for publishers to garner interest from their target audience. Since 2017, online spending totals for the entire holiday shopping season have averaged an increase of 14% year over year. While Adobe Analytics predicts an increase of 6% over 2019, publishers should remain encouraged about the prospect of increasing revenue during the fourth quarter. By producing content containing images associated with upcoming holiday shopping events, publishers can boost web traffic and improve their EPC (earnings per click).
Blending the two occasions is now more important than ever before. According to BigCommerce.com, brick-and-mortar traffic on Thanksgiving and Black Friday dropped about 9%  in 2018 compared to 2017. However, overall sales continue to climb, and it has become abundantly clear that online shopping is the biggest draw for consumers during the holidays. Due in large part to the increasing popularity of Cyber Monday, e-commerce sales have grown nearly 16.7% from 2017 to 2018. E-commerce events like Black Friday and Cyber Monday have historically been intensely competitive for publishers. With that said, featuring FlexOffers tracking links can go a long way towards helping publishers in their never-ending quest to drive traffic and bolster click conversion rates.
Holiday E-Commerce History
If you've ever wondered to yourself, 'What is Black Friday?' Here's a quick history lesson for you. Black Friday really began to catch on as a retail holiday in the late '80s. Over time, this one-day event has since transformed into four days of retail holidays known as Small Business Saturday and Sunday and of course Cyber Monday, which began in 2005. Given the emergence of online shopping, Cyber Monday, also referred to as Blue Monday is the biggest online shopping day in the U.S. On this day, nearly every major online retailer offers markdown prices on hot-ticket items to help shoppers secure every item on their holiday wish list.
Blurred Lines
Through the years, Black Friday deals and Cyber Monday sales have been rolled into one massive shopping event. In order to maximize revenue during the holiday months, many retailers have begun offering Black Friday discounts on Thanksgiving Day, all the way through the following Monday, and sometimes even longer. The window to capitalize on Cyber Monday deals oftentimes begins as early as the Saturday after Thanksgiving through Wednesday. Due to the global pandemic many stores are limiting operating hours of their brick-and-mortar locations. As a result, customers can expect continued blurring of Black Friday and Cyber Monday events, as more Black Friday deal-seekers will inevitably opt to shop online. The best online Black Friday deals will likely be recycled on Cyber Monday, and now is the perfect opportunity for publishers to plan their affiliate marketing strategies for Black Friday and Cyber Monday.
Thankfully, our staff is teeming with e-commerce experts available to help publishers reach their goals and establish expectations ahead of Black Friday and Cyber Monday 2020.
How FlexOffers can Help You?
If you're a publisher looking to publish blogs that separate your site from other publishers developing Black Friday content, then you're in luck. FlexOffers.com provides its members a bevy of tools and strategies to help their domain become the authority on a variety of highly coveted items during the holidays. It's not uncommon to see categories like clothing and accessories, entertainment, and lifestyle and recreation to undergo exponential growth during Black Friday and Cyber Monday.
From 2018 to 2019, FlexOffers' top revenue generating categories achieved an average of 98% year-over-year growth following Q4 e-commerce events. While we are currently in the midst of a pandemic shoppers, adventurers will never cease seeking new entertainment options, and fashionistas will continue coveting the latest styles.
Publishers can continue expecting previously mentioned categories to thrive in 2020 as each vertical will assuredly extend discounts even the most budget-conscious consumer can appreciate. During Black Friday and Cyber Monday, customers can anticipate sitewide discounts upwards of 50% off top-quality clothing brands. They'll also encounter extreme savings on entertainment, and lifestyle and recreation items on their holiday wish list.
Thankfully, publishers will see no shortage of holiday marketing materials containing the aforementioned verticals when they access their Publisher Pro account. In addition to tools found in Publisher Pro, publishers can also contact their account manager at [email protected] to get a better understanding of expectations ahead of Black Friday and Cyber Monday 2020 and how to structure content around each e-commerce event.