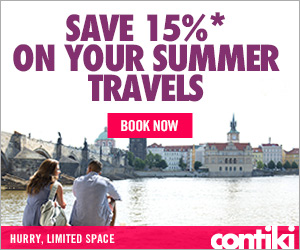 Mounting responsibilities as one gets older tend to steer people away from travel, which is why now is the time for your site visitors to book a tour through the Contiki affiliate program. The company specializes in excursions for the 18 to 35-year-old crowd that is as lively or laid back as they want them to be.
Capitalize on the impending spring break and summer travel rush by promoting these Contiki discounts on your site via FlexOffers.com!
---
USA Region_Save up 30% off Trips Departing Soon with Contiki – BOOK NOW!
CAN Region_Huge Savings! Up to 30% off Trips World Wide Departing Soon With Contiki – BOOK NOW!
USA Region_Discover Australia and Save 10% on All Trips 7+ Days with Contiki – Most departures are in the fall – BOOK NOW!
---
The best part about Contiki's focus on the 18 to 35-year-old demographic is that good times won't be interrupted by younger or older travelers that just don't "get it". When booking trips on their intuitive website, your readers can rest assured that their daytime hiking trips and nighttime club hopping won't be curbed by individuals that may not have the same ideas in mind when it comes to having fun. There is a time and place for people of all ages to come together, but sometimes it's nice to socialize with individuals your own age.
Speaking of time and place, it can't be any easier to reserve a trip through Contiki.com. Your patrons can browse by area, travel style, and trip length to ensure they get paired with like-minded people in the same age group, hopefully resulting in a maximum amount of positive memories. As budgets tend to be tight for those new to the workforce, vacations can also be sorted by price range. This little feature also removes a bit of the social awkwardness that could ensue when part of the group prefers backpacking to fine dining. There's no need to worry with Contiki.
---
Australia Residents Only, Early Bird Sale! Save up to $400 on Trips to Europe with Contiki! Promotion ends April 27th, 2017!
New Zealand Residents Only! Save 10% on Contiki's The Big Tiki Trip with Promo Code: PPNZLMD424 BOOK NOW! Promotion ends April 15th, 2017!
Departing Soon! Save 20% Off The Thai Island Hopper East with Contiki – Promo Code PPASIALMD526 BOOK NOW!
---
Contiki believes in the principal of "the more, the merrier" to the point that they'll extend extra discounts to groups of friends that book and travel together. In fact, should groups of 10 or more decide to venture somewhere together, they can all enjoy a 10% discount or have the 11th member of their group travel for free. This is a great way for fraternities and sororities to meet other members abroad and make lifelong memories to be brought back and shared with the rest of the house.
Should (or more likely, when) bouts of spontaneity strike the young adults among your audience, Contiki.com can cater to their needs. Savings of up to 30% are available on last-minute trips to Europe and other areas, giving timid travelers on a budget no excuse to not go out and see the world while meeting new people. It's a bit outside of some people's comfort zone, for sure, but they won't regret taking a guided dive into the unknown.
---
---
Don't miss your chance to make the most of these and other enticing Contiki promos through the FlexOffers.com network today!