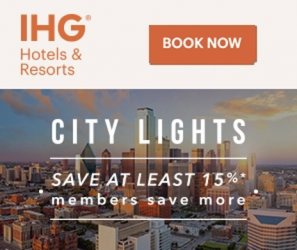 The Catholic-Orthodox tradition known as Lent is perennially ushered in by colorful carnivals around the globe, beginning January 6 through February 25. Most notable among pre-Lent celebrations is Mardi Gras in New Orleans, Louisiana. However, there are festivals all over the world that are comparable to Mardi Gras that vary by name and cultural expression. Thankfully, jet setters can experience every Mardi Gras celebration under the sun when they book their room through the InterContinental Hotels Group.
Don't miss your chance to promote these InterContinental Hotels Group offerings at FlexOffers.com today!
---
Taste the best of the city! Members save up to 15% in select foodie destinations. 
Save up to 15% at IHG Hotels and Resorts. You'll always find great hotels and the lowest rate, exclusively for IHG Rewards Club members who book direct.
Save 15% on your Spring Break Getaway with Your Rate!
---
The quality of one's hotel accommodations can either make or break their Mardi Gras experience. By reserving a room at IHG.com, your site visitors can achieve peace of mind and galivant "N'Awlins" French Quarter without a single worry about their temporary living quarters. The InterContinental Hotels Group offers fascinating facilities in conjunction with first-rate customer service that makes guests feel welcome and valued wherever they are in the world. If your page viewers plan on taking in sights, sounds, and fine dining in the Big Easy, then they'll certainly want to plan a staycation at the luxurious InterContinental New Orleans. Located just a stone's throw away from the French Quarter, the InterContinental New Orleans features plush amenities, captivating views, and Creole cuisines that give a new definition to Fat Tuesday at prices even the most budget-conscious consumer can appreciate. Currently, at IHG.com, foodies can enjoy a taste of New Orleans and save up to 15% off select restaurants.
While New Orleans is often touted as the premier destination for Mardi Gras festivities, Mobile, Alabama is actually regarded as the birthplace of Mardi Gras in the United States. Mobile's city-wide celebration includes a multitude of parades and formal balls that capture the true essence of its rich Carnival traditions. Situated in the heart of Downtown Mobile is the Candlewood Suites, the only all-suite hotel available in Downtown Mobile. The Candlewood Suites provides vacationers an inordinate amount of living space equipped with a full kitchen to simulate a residentiary feel for those traveling to Mobile with friends and roommates. When your web traffic isn't busy engaging in local traditions like tossing delicious moon pies in the general direction of their Mobile Mardi Gras mates, they'll eventually have a hankering for some downtime. Despite being positioned in Mobile's entertainment district, the Candlewood Suites has a plenitude of relaxing offerings such as cozy outdoor seating, a saltwater pool, and private cabanas. By way of its invigorating luxuries, the Candlewood Suites is certified to recharge tourists for an unforgettable night beneath the Mobile city lights.
---
See the City Lights & Save at least 15%
Book early and save up to 15% with Your Rate. The best deal, plus all the benefits you love when you book directly with Holiday Inn Express.
Members save up to 15% in select kid-friendly cities. Time to plan your family vacation!
---
The InterContinental Hotels Group has over 5,000 hotels in 100 countries designed to cater to a variety of needs. If the families among your audience would like to escape to a tropical destination during Mardi Gras and experience the Caribbean's largest Carnival celebration, then they'll undoubtedly enjoy their stay at the Holiday Inn Express & Suites Trincity Trinidad. The Holiday Inn Express & Suites Trincity Trinidad is teeming with nearby activities guaranteed to garner the interest of every member of the family. While staying at the Holiday Inn Express & Suites Trincity Trinidad, adventurers can navigate their way to the Maracas Bay beach to enjoy great seafood, beautiful mountain and coastal views, and watersports. Neighboring attractions include the Millennium Lakes 18-hole PGA Golf Course for golf enthusiasts. The Holiday Inn Express & Suites is also a mere three-minute drive from the Trincity Mall. The family-friendly shopping center includes games and play areas that keep the kids entertained while their parents engage in retail therapy prior to participating in Carnival festivities. In any event, excursionists lose their way or need an agenda for the day, the Holiday Inn Express & Suites' knowledgeable staff in tandem with its hourly scheduled shuttle service helps place families exactly where they need to be to optimize their tropical getaway.
Following a couples retreat or a family vacation for Mardi Gras, it's not uncommon for travelers to feel a modicum of guilt while reflecting on the cost of their trip. Fortunately, for IHG Rewards Club members, globetrotters can reward themselves through the InterContinental Hotels Group's bonus points system. IHG's bonus points system is essentially a gift that keeps on giving, as it incentivizes your readers to plan memorable vacations that ultimately equate to massive savings. For every night booked at an IHG hotel, Rewards Club members can begin earning points that bring them closer to 4x bonus points. Bonus points accumulated during the 4x bonus point promotion period can be used towards merchandise, magazine subscriptions, and airline miles. IHG Rewards Club members are also eligible for Reward Nights, which enables them to combine points with cash and stretch their currency further on their next Mardi Gras, or Carnival adventure.
---

---
Experience international Mardi Gras celebrations with the InterContinental Hotels Group through the FlexOffers.com network!