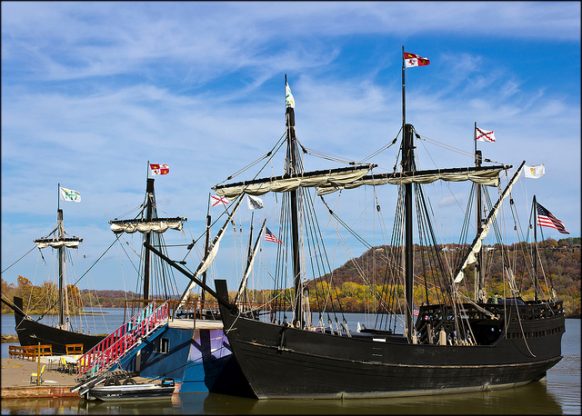 In 1492, Columbus sailed the ocean blue, but the deals in 2014 are like none your readers have seen. Columbus Day is this upcoming Monday, October 13th, and retailers are gearing up for another busy fall weekend filled with sales on must-have items.
Take a look at these new Columbus Day offers now available from FlexOffers.com!
---
---
Jackpot!
While the prices on the latest fashions and housewares at Macys.com are quite affordable compared to boutiques, their storefront's current sale makes this inventory even more so. Customers can take an extra 20% off during the Columbus Day sale with code FALL at Macys.com (valid 10/6-10/13). There are discounts in practically all departments, and a far better selection online than one could ever find at any of their brick-and-mortar locations at the local mall.
At the opposite end of the mall, but equally as impressive with their sales, is the Kohls Department Stores Inc affiliate program. There are huge savings to be had at Kohl's biggest Gold Star Clearance event, where goods can be bought at up to 70% off. Those with even an inkling of foresight should consider stocking up during this sale in preparation for the upcoming winter holiday season for every member of their family.
Worldly Wealth
Like Leif Erikson's voyage to what is now considered North America, there is a rich history of knowledge and culture waiting to be explored via the Barnes & Noble affiliate program. Patrons should definitely shop Barnes and Noble during the Friends & Family Sale, where they can take 20% off a single item (valid 10/9 – 10/13/14). Whether searching for a map to venture parts of the world not yet experienced, or buying a few educational toys to keep kids entertained in the back seat while said map is being deciphered, Barnes & Noble is a receptacle of knowledge that far too many consumers regard solely to sip coffee and snack on slices of crumb cake. Delicious, delicious crumb cake.
Fashionable and forward-thinking, your web traffic already knows that TOMS Shoes is where they can go for ultra-comfortable alpargata-inspired footwear, whose purchase grants a pair of new shoes to a child in need. This One for One company-wide campaign also extends to their eyewear in stock, as each pair purchased helps give sight to one person, either with prescription glasses, sight-saving surgery, or proper medical treatment. Encourage your audience to #GiveSight with TOMS on October 9th during World Sight Day, when they can share what sight means to them as well as images of what they're grateful for. It's a great way to spread awareness for this all-too-common occurrence and create good will.
Your site visitors don't need any old, old wooden ships to discover the diversity of value-priced products available this Columbus Day from FlexOffers.com. All you need to do to navigate them in the right direction is add a few key banners and links like these and others on your landing page today!