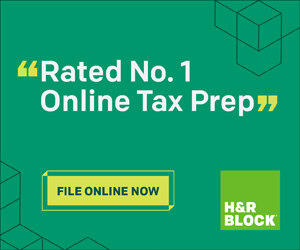 Whether attempting to save money, prepare for retirement, or gain enough capital to start a small business, there are a host of financial services to help budget-conscious individuals achieve their finest fiscal fantasies. Grant your page viewers access to a bevy of economic opportunities guaranteed to suit their needs by promoting these fabled financial bargains now available on the FlexOffers network!
---
Through the H&R Block affiliate program, your site visitors will gain entry to its convenient online tax preparations services which explores filling options that guarantee its customers 100 percent accuracy and the max tax return possible. H&R Block accommodates individuals who desire to file their taxes online and offers in-office appointments for those who may need or prefer assistance with their taxes.
Save 25% on H&R Block's Deluxe Online Tax Filing Products!
---
When your patrons choose Mason Finance, they gain entry to on-demand estimate services capable of assessing the value of their life insurance policy in a matter of seconds. Mason Finance clients will also be connected to its network of investors, prepared to offer payouts commensurate with the value of their policy. Mason Finance also pays a lump sum up to 30 percent higher and months sooner than its competitors.
Sell Your Life Insurance Policy | Cash Payout, No more Premiums! Get an estimate now!
---
With a Digit subscription, your web traffic can begin saving money without even thinking about it. Whether the goal is to save money for a rainy day, vacation, or pay off a credit card, Digit analyzes its members spending to help them save the perfect amount, daily to achieve their financial endeavors. Currently, at Digit.com subscribers can begin saving free of charge for the first 30 days, then just $2.99 per month after that.
Save money, without thinking about it with Digit! Free for 30 days.
---
Developed by trusted attorneys, Trust & Will delivers a streamlined approach to customizing, trust funds, creating wills, and applying for guardianship at an affordable rate. Trust & Will transcends exorbitant costs as each of its products allows consumers to circumvent probate court and a myriad of other time-consuming tasks, making estate planning simple, and accessible.
A Complete & Legal Will in Minutes Create a Legal Will in Minutes The Smart & Modern Way to Make Your Will Online
---
If the entrepreneurs among your audience are in search of a business loan to start a business, then you'll certainly want to promote The Loan Exchange affiliate program on your site. The Loan Exchange is associated with an assemblage of network lenders who provide unsecured loan products unique to the needs of each business owner. Loan amounts at TheLoanExchange.com range from $6,000-$250,000. Proprietors can be approved in as little as five minutes and have funds wired to their account in just two hours.
Apply for a small business loan today!
---
Regardless of how far or near retirement is for your readers, it would behoove them to at least consider Blooom. Through the Blooom affiliate program, the future retirees among your audience will be afforded tools to help them successfully navigate the unpredictable road to retirement. Bloom helps its clients optimize their 401k through the avoidance of high fees, and knowledgeable advisors who monitor accounts to keep them viable and performing according to expectation.
401ks are complicated. Blooom isnt. Link blooom to your retirement account for smart, simple optimization.
---
Don't miss your chance to promote these fabled finance bargains on your site via FlexOffers.com today!