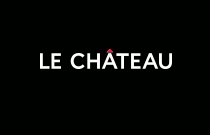 A specialty fashion retailer that has been cultivating a loyal following for decades, LE CHÂTEAU should be the focus of any publisher whose readers value affordable contemporary apparel. Both women and men will be able to find a plethora of outerwear through this online outlet, extending their casual and upscale outfit options with ease.
Help your audience look and feel great for less this winter with these clothing deals from LE CHÂTEAU at FlexOffers.com!
---
---
Gentleman's Threads
While there's a time and place for jeans and a t-shirt, modern men know that certain social situations require a bit more panache… and a collar at the very least.
The LE CHÂTEAU affiliate program is filled with shopping options for guys with varying tastes. Everything from subtle sweaters to the perfect slim-fit pants can be sourced through this storefront, in addition to the classic suit. This is one of the best times for customers to consider purchasing suits for men from LE CHÂTEAU, because for a limited time only they can enjoy an extra 50% off. Now there's no reason to be caught in the same smock twice in a season!
Speaking of casual attire, LE CHÂTEAU also sells slim-fit dress shirts that are appropriate to wear in a number of scenarios. With one of their button-ups and a nice pair of slacks, anyone can be dressed and out the door in no time.
Elegant and Empowered
Not to be outdone, the selection of exquisite women's wear at LeChateau.com rivals that of any boutique, and at a fraction of the price.
Loyal patrons will be pleased to know they can currently shop the hottest women's styles plus receive free shipping on all orders. With that in mind, the hardest aspect finding an ideal party dress would be coordinating with your date and the right vintage of wine at the bar. As LE CHÂTEAU also sells glamorous pumps and party platforms, browsing and buying the best footwear won't be an issue either.
Even if your web traffic isn't particularly keen about attending lavish holiday parties, this retailer also stocks cozy sweaters for keeping warm this winter. Knit tunics, scoop-neck tops, and more are but a few clicks away.
Were your visitors not already entranced with the shopping options available from LE CHÂTEAU this season, they might change their minds with savings of up to 65% off outlet styles for women and men, shoes, handbags, and more. If you don't want to be caught promoting a fashion faux pas, consider the LE CHÂTEAU affiliate program today!