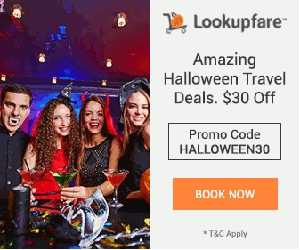 With the holiday season right around the corner, now is the perfect time to promote discounts from travel-friendly advertisers on your website.
Entice your readers with these incredible fall travel deals available via the FlexOffers.com network!
---
LookupFare.com is a great place for your patrons to begin their fall travel planning, as they offer some of the cheapest flights and hotel rates on the web. Should circumstances change before a flight takes off, the LookupFare.com Elite MACP program grants inexpensive and easy cancellations with 100% refunds.
---
Featuring over 5,000 hotels across 100 countries, InterContinental Hotels Group properties are located everywhere your page visitors will want to be this fall. They've hotels that cater to guests with varying budgets in mind, from romantic luxury resorts to inexpensive suites for families visiting theme parks in Orlando, FL.
Where will you go next? Members save up to 15% in New York City. Find trip ideas, hotel deals and more.
---
Whether traveling abroad for personal or business reasons, Hilton Hotels always provide affordable accommodations to consider. Additional savings are available for guests who choose to book rooms on Sundays as well, encouraging longer stays in paradise.
Get breakfast for 4 & premium Wi-Fi. Book Hilton's Family Fun Package with Code PBFFP1!
---
The Kohl's affiliate program can clothe your site visitors no matter where they're headed this fall, be it a beach in Central America or a snowy mountain resort even further away from home. Long-sleeve tops, pants, jackets, and other essential outerwear for cooler climates can all be obtained here.
20% Off Select BabyMoov Diaper Bags, Gear Accessories, and Feeding!
---
It should go without saying that your readers should attach a Tile Bluetooth tracker to everything of value they take with them when they travel. Should something attached to a Tile ever get lost, the free smartphone app that works with these durable little devices makes finding misplaced items a breeze.
Find your phone, keys, anything with Tile – Click Here.
---
Sustainable style is what the Patagonia Canada affiliate program is all about, as they sell the best outdoor clothing and gear without causing unnecessary damage to the environment. Hikers, campers, and everyone else braving the outdoors this fall should definitely shop for new outerwear through this outlet.
Patagonia Canada offers the best selection of Patagonia clothing and gear in Canada.
---
Groupon's steep discounts on restaurants and experiences are great for those exploring local neighborhoods, as well as those completely foreign to them. Browsing through the food and culture offerings available through this ecommerce marketplace is a smart way to plan an unforgettable itinerary on even the most modest of budgets.
Sitewide Sale: 20% off local, 10% off goods & getaways! Ends 9/23
---
There are thousands of properties available for rent this fall through HomeAway.com that feature distinct local flair. Often cozier than their commercial counterparts, these rooms are ideal for anyone who wants to experience real-deal local culture.
---
Capitalize on these amazing fall travel deals available to promote through FlexOffers.com today!