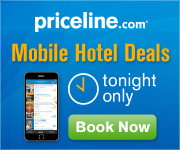 Before the winter holiday season gets your audience worked up in a tizzy, now's the time for them to lock down upcoming travel plans for the season. There are a number of enticing links currently available from FlexOffers.com from industry-leading advertisers that excel at creating conversions; check them out below and see what works best on your site!  
---
Marriott International – US
Featuring thousands of hotels in nearly 80 countries and territories around the world, chances are your readers have stayed at a property available to book through the Marriott International – US affiliate program in the past. As such, they know that the convenience, comfort, and value exhibited by each location is what has kept this lodging company going for nearly a century.
Our Fall Break-Away Event includes up to a $100 Nightly Resort Credit during your stay! CODE: ZX0 (Valid for bookings until 10/31/15, Stays from 10/1/15 to 11/22/15)
InterContinental Hotels Group
The diverse array of hotel brands one can book through the InterContinental Hotels Group gives their affiliate program the ability to appeal to travelers with budgets that are just as varied. Looking for a luxury getaway for two or an affordable family weekend at a theme park? IHG is your answer.
Book Early and Save up to 30% on Fall Travel!
CheapOair.com
The majority of one's travel budget shouldn't be spent before even arriving at the final destination, which is why we recommend flying with CheapOair.com. As the name implies, this program is poised to win the business of all the budget-conscious consumers that frequent your site with savings on trips across the U.S. and beyond.
Last-Minute Weekend Getaway Deals! Take Up To $15 ?Off Book Now!
Booking Buddy
As the temperatures start dropping around the country, there are but two options: embrace the cold or escape to paradise. Regardless of which option your site visitors go for, they can find the top values from over 140 travel sites and tens of thousands of deals via BookingBuddy.com.
San Juan Hotel Stays From Only $160/nt! Expires 9/27/15.
Priceline.com
Some of the best prices on flights, hotels, and vehicle rentals can be procured through the Priceline.com affiliate program. Entire packages can be reserved as well for reasonable prices, so the only thing your web traffic needs to worry about is packing light.
Tonight-Only Mobile Hotel Deals!
Dollar Rent-a-Car, Inc.
There are numerous ways to save through the Dollar Rent-a-Car, Inc. affiliate program, and each one of them gets people on the road in a quality vehicle faster. Additional discounts can be located in the Specials tab at Dollar.com, including both featured and regional coupons.   
Save Up to 25% on Prepay Rentals on All Car Classes! Offer is Valid for Booking Now at Participating Locations! Pickup from September 8 through November 15, 2015!
Switch up the offers on your site in anticipation of upcoming fall travel plans, and your earnings might start blooming sooner than you think. Promote these and other fall travel deals from the FlexOffers.com network today!