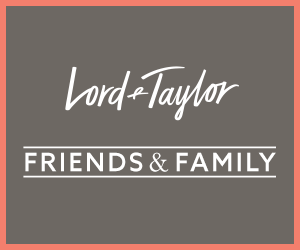 With little over a week until Father's Day on Sunday, June 17th now is the time to update the links on your site to help steer your audience members in the right direction when buying gifts for dear old dad.
Capitalize on these fantastic Father's Day 2018 savings, now on the FlexOffers.com network!
---
Known for their exceptional selection of designer apparel, Lord & Taylor is the perfect outlet to help update dad's aging wardrobe come Father's Day. Contemporary eveningwear, modern workwear, swim trunks to enjoy all summer, and plenty of other garments are but a few clicks away.
Father's Day Gift Guide Shop Now
---
SaksOff5th.com is where your readers will want to go for upscale clothing at reduced prices this Father's Day, including Armani suits and Tom Ford sunglasses to expertly accentuate any outfit. Fatherly figures who prefer to dress a bit more low-key will be pleased to see that Saks Off 5TH is also currently promoting markdowns on jeans that can be paired with everything from polos to sports jackets to create a smart yet relaxed look.
FOR THE CASUAL DAD TAKE AN EXTRA 40% OFF* JEANS USE CODE FORHIM SHOP NOW
---
Dads love to save on everything for their family, including apparel for the smallest one of their bunch. Through the i play., inc. affiliate program, patrons will be able to pay a bit less for environmentally-conscious garments for kids that support healthy physical, emotional, and mental growth and development. The free shipping currently offered on orders over $50 is a big plus, too!
Free shipping on all orders over $50!
---
Being able to sleep in on Father's Day is one of the easiest requests that dads can ask of their family, that is unless they're woken by the dog when no one else volunteers to go for a morning walk. Good Life® Bark Control sells electronic devices that use humane ultrasonic sounds and vibrations to train dogs to keep their barking to a minimum.
Little Dogs = High-Pitched Yapping! Take 15% Off Our Humane Dog Silencer Line With Code: PRINCESS
---
Entrepreneurs looking for a cash influx to get off the ground or expand their operations can rely on the services available through bfscapital.com to do so in as little as two business days. They can provide your site visitors up to $500,000 in capital through small business loans and merchant cash advances, which should be more than enough to take them to the next level.
Father's Day is June 17. Do you need more inventory to sell?
---
Whether searching for a giant outdoor grill or equally impressive 4KTV, chances are the Wal-Mart.com US affiliate program can provide inspiration for the ideal Father's Day gift this year. This well-known discount superstore also stocks fishing gear and hunting essentials should dad want a little time to relax outdoors on his special day. He's certainly earned it.
Find the Perfect Gift for Dad at Walmart.com!
---
Promote these fantastic Father's Day 2018 savings on your website today, now available via FlexOffers.com!