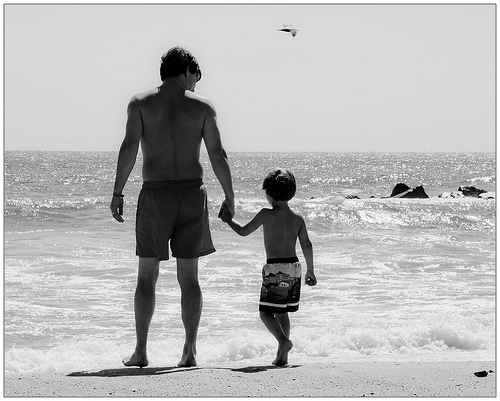 Mother's Day has come and gone, and now it's dad's turn to take the spotlight on Father's Day.
Many fathers are responsible for teaching their children important life skills, like changing a flat tire and searing steaks to perfection, so why not help your audience members show their love by promoting a few choice gifts on your site?
He might not always show gratitude for his Father's Day presents, but that might just mean you've been missing the mark all these years. It's time to step up your gift game, because whether they outwardly express it or not fathers certainly do care.
---
For the Dapper Gentleman
Looking good never goes out of style, which is why a few choice fashion accessories are always considered classic gifts for dad. Ashford, Jewelry.com, MyJewelryBox.com, and SuperJeweler are all great affiliate programs for purchasing a classy dress watch or bracelet. These sites also offer stylish necklaces and rings, but take a father's other jewelry into account to be sure they fit his tastes.
If you feel selecting a suit and tie might best be left to the old man himself, a handsome shirt or sport coat could also make a great addition to his closet. Macy's, JCPenney, and Perry Ellis all have upscale attire offers for Father's Day, as does Saks Fifth Avenue and Gilt Groupe. For a sleek pair of shoes, check out those same sites or specialty shops like FootSmart and Nunn Bush.
For the Pit Master
When beef is what's for dinner, dad's usually manning the barbecue. Unless he's a vegetarian, some prime cut gourmet delicacies from the ever-popular Omaha Steaks are always appreciated. Even vegetarians will enjoy one of their sweet desserts, or a gift basket from Harry & David, 1-800-BASKETS.COM, Cookies by Design, The Popcorn Factory, or wine.com.
An even better option would be to buy him a new grill outright for Father's Day. Target.com, Walmart.com, HSN.com, and QVC.com all sell state-of-the-art name brand grills and the accessories needed to tame the flames like only fathers can.
Surprise, Surprise!
If it has been a while since your site visitors have actually seen their fathers, then maybe the best gift is something as simple as taking a trip to see them. CheapOair.com and CheapOstay are great for booking last minute flight and hotel reservations, as are EasyClickTravel.com and OneTravel.com.
Heart of Gold
Though some fathers may come off a little distant, there's a warm and caring being hidden underneath that tough exterior. FlexOffers features promotional options aplenty to give your audience members a wide variety of gifts to purchase for Father's Day. As long as you don't show up with yet another tacky tie, chances are he'll love it.