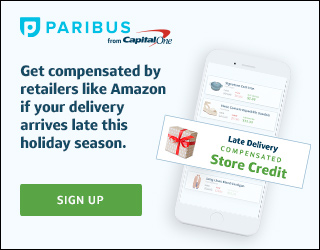 With the holiday season coming to a close, now is the perfect time to begin reconciling expenses to ensure greater economic stability for the remainder of this year and beyond.
Help your page viewers obtain ever-elusive cash reserves and enhanced monetary flexibility by promoting these fascinating financial services now available on the FlexOffers network today!
---
Paribus from Capital One® finds potential savings on your previous online purchases and gets you money back, effortlessly. Save money and time, so you can go back to doing what you love.
Paribus tracks online prices and contacts stores to get you paid! Sign up for free!
---
Through the Digit affiliate program, your web traffic can begin saving money, without thinking about it. Whether the subscriber's goal is to save for their dream vacation, down payment on a vehicle, or just a rainy-day fund, Digit develops plans to help them efficiently achieve desired results. Currently, at digit.co, customers can get 30 days of Digit for free, then just $2.99 per month following the free trial.
Save money, without thinking about it with Digit! Free for 30 days.
---
If your site visitors are in search of fast, easy, and transparent measures to sell their life insurance policy, then you'll certainly want to promote the Mason Finance affiliate program on your site. Mason Finance simplifies selling and/or transference of insurance policy ownership by assessing the worth of the policy holder's plan in under 60 seconds and instantly matching them with licensed buyers.
What's Your Policy Worth? Get Your Estimate In Seconds at Mason Finance
---
Whether in search of a home or personal loan, Loan Exchange offers your patrons the requisite tools to find loans that best fit their needs. Loan Exchange is comprised of a network of lenders that offer loan products from $2,600 to $50,000 to prime borrowers across the spectrum. At TheLoanExchange.com, future loan recipients will enjoy fast online approval, personalized and bundled options from matched lenders, and funds deposited on the same day as the loan approval.
Find Loans That Best Fit Your Needs Today!
---
It's never too early for your readers to begin optimizing their 401k, and Blooom provides them with a steady flow of information from their dedicated group of experts to help them make smarter decisions. Blooom affords its members access to affordable 401k management that exposes hidden investment fees, and automatically rebalances its customers' portfolio to withstand sudden changes by their employer to keep their retirement plan afloat through the market's ups and downs.
---
There's no way to predict the stock market's behavior but through the Motley Fool affiliate program, the day traders and investors among your audience can at least come close. Motley Fool's "Stock Advisor" delivers market-beating tactics that allow your readers to remain ahead of the market curve for just $99 a year.
Motley Fool Stock Advisor: Join now for only $99 a year!
---
Market these fascinating financial services on your landing page via FlexOffers.com today!