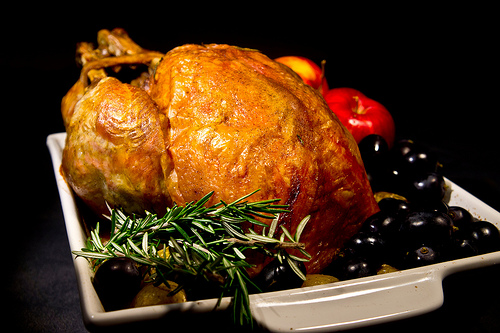 Thanksgiving is right around the corner on November 28th, and FlexOffers.com is quickly filling up with offers to make the big day an even more memorable occasion. Make sure you save some room on your website for a few of these Thanksgiving-themed promotions now available for your audience!
---
---
Setting the Table
With guests traveling from far and wide for the big fall feast, now is the time to break out the best china and table trimmings.
Customers on 1-800-FLOWERS.COM can currently save $10 when they spend $59.99 and up on flowers & gifts by using the code TURKEY59 at checkout. These colorful arrangements make excellent centerpieces for the dinner table, as well as thoughtful business gifts for companies to send to their clientele along with gourmet gift baskets.
Redecorating the dining room is easy with BedBathStore.com, where people can shop their Thanksgiving Tablecloth Sale for huge savings. A festive tablecloth will not only upgrade the aura of a room, it can protect a table from inevitable food and drink spills as the evening wears on.
Home chefs who want only the best tools in their kitchen should shop the CHEFS Catalog and Jacob Bromwell affiliate programs. Cutlery sets, electric carving knives, and other Thanksgiving essentials are available at CHEFS Catalog– with free shipping on any order. For more a more rustic meal prep and presentation, Jacob Bromwell helps families celebrate Thanksgiving with authentic American cookwear and artisan-crafted copper goods.
Main Course
The night before your web traffic begins preparing their turkey is not the time to start questioning its quality. For some of the best legendary meat, seafood, and side items available anywhere, you can't go wrong with Omaha Steaks. From 11/1- 11/22 you can get a free 2lb oven-roasted turkey with purchase on OmahaSteaks.com, which is great for unexpected guests and leftover sandwiches alike.
Making sure everyone is in great spirits is simple with a few bottles of wine ordered from either wine.com or Uncorked.com, the latter of which has Thanksgiving wine sets on sale up to 25% off. Since there are so many different ways to prepare a bird and side items to enjoy on the table, nearly any wine will actually go well with the meal.
Delicious Desserts
Thanksgiving is one of the few times of the year people let their diets fall to the wayside and indulge in a sweet dessert… or two.
Using the coupon code JOYSHIP you can get free shipping on selected Thanksgiving desserts and gifts from Cheryls.com (offer valid 11/25/2013). For a few deliciously elegant treats, Mrs. Prindable's is featuring new Leaf Baskets with Natural Caramels, Dipped Pretzels and 2 Signature Apples For Only $39.95! Pies are fine and all, but easy-to-share baked goods and artisan treats offer a great spin on traditional after-dinner delicacies.
Gracious Gathering
Whether hosting or attending a Thanksgiving feast with family and friends in the weeks ahead, there are plenty of money-saving promotions currently available on FlexOffers.com. All it takes is a few key advertiser placements on your page to get the most of these Thanksgiving-themed deals, so don't delay!