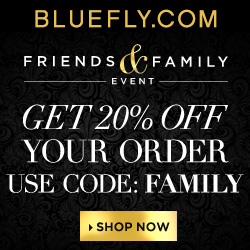 Any modern fashionista or reality television fan knows about Bluefly, the online outlet specializing in high-end fashions at superior values. Whether sashaying down the runway or downtown for a night out, Bluefly has become even more irresistible as of late thanks to their Friends & Family Event where customers can enjoy an extra 20% off orders at Bluefly.com with the code "FAMILY" from 10.21.13 – 10.23.13.
Not certain if household name brand fashions would appeal to your audience, even at these extra discounted prices? Given an opportunity, you just might be pleasantly surprised.
---

---
Shoe Ought to Know
If there's one thing both women and men can agree upon, there's nothing more stunning about a new ensemble than the fine shoes that finish it off.
During Bluefly's Friends & Family Event, that extra 20% discount can be applied towards many of the many fierce pumps and flirty peep toes they stock from some of the most sought-after names in the industry including Fendi, Prada, and Jimmy Choo. Even someone unfamiliar with the distinguished styles of those lines can recognize the potential draw of their names alone and the overall appeal they add to Bluefly's inventory.
Customers searching for shoes a little more low-key or pronounced can also shop surprisingly lavish loafers or knock-out boots that will become the envy of onlookers and the rest of the footwear buried in the back of their closets. Take a look for yourself, and you too will be able to envision the incredulous ire practically any of these tall boots can bring.

Baby, It's Cold Outside
Winter is coming, and at Bluefly.com that warrants a few new jackets and sweaters for the season. Shoppers can apply the 20% discount available during the Friends & Family Event towards their next favorite cashmere sweater or a classy cardigan that can be worn at the office.
Even if it has not yet cooled down where your site visitors reside, there's no time like the present to take advantage of these deals and stock up for the holiday season. Clever gift-givers may go unnoticed if they verify the sweater size of their significant others now, only to become heroes a few months down the line. The look of pure joy on their loved one's face as they stroll through freshly fallen snow in their new sweater will make it all a worthwhile experience.

Clothes Make the Man
An insightful idiom that still holds true to this day, Bluefly can drape a dapper gent in stylish clothing that will help project an aura of confidence unlike anything others have witnessed before.
Think that's a bit farfetched? Consider the calming grin of a man simply wearing a pair of straight-leg jeans and a comfortable button front shirt while spending time with his friends and family, or a perfectly cut blazer at his next budget meeting. It doesn't take much, but when it's done correctly the right combination of clothes on a strapping man can make all the difference in the world. During the Bluefly Friends & Family Event, that accomplishment can be achieved at an even greater value than possible before.
Time is of the Essence
As you can clearly see there are plenty of reasons to promote Bluefly's Friends & Family Event on your site, as their inventory of designer apparel, shoes, and fashion accessories for women and men are even more attractive at an extra 20% savings. This limited-time promotion only runs from 10.21.13 through 10.23.13, so take advantage of the Bluefly Friends & Family Event on FlexOffers.com today!