The 2023 mThink Blue Book Top 20 CPS Network Survey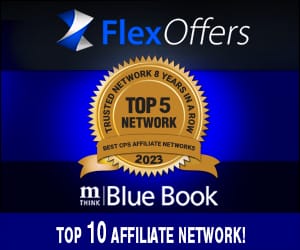 has officially launched, and now is the time for all publishers and advertisers to cast their votes. Thanks to the support of our affiliate partners, we were able to reach the 4th overall spot in last year's poll. We aspire to maintain our post as thought leaders in the affiliate marketing space through the provision of tools that perennially evoke advocacy of our network.
Please take a moment to flex your voting muscle and cast your ballot for FlexOffers.com in the mThink Blue Book Top 20 CPS Network Survey.
---
Publishers who have benefited from our robust database of reputable brands that seamlessly supplement the content on their site can vote for FlexOffers.com through mThink Blue Book's Publisher Survey. Advertisers who have expanded their profile by virtue of their relationship with our team will also be provided with a separate section to champion FlexOffers.com as the No. 1 affiliate network in the 2023 mThink Blue Book Advertiser Survey.
FlexOffers remains diligent in its quest to deliver a progressive outfit of performance marketing tools. All available data engines and performance tools are fashioned to enhance the chances of our partners achieving their affiliate marketing dreams. Our commitment to delivering sterling customer service includes illustrative components such as our expert team of affiliate managers working diligently to tend to the affiliate marketing needs of our contemporaries. Additionally, FlexOffers' affiliate managers are readily accessible and more than happy to help our partners identify and explore new verticals and growth opportunities.
FlexOffers closely monitors the needs of each client and keeps pace with new developments in our industry. This approach allows us to compose new offerings that aid our partners in navigating economic shifts, whilst bolstering consumer confidence. Your vote in the mThink Blue Book Top 20 CPS Network Survey not only signifies the continuance of time-tested affiliate marketing standards, but also the evolution of solutions that improve the consumer experience.
If you've enjoyed working with the FlexOffers team, flex your voting muscle and vote for FlexOffers.com in the 2023 mThink Blue Book Top 20 CPS Network Survey, today!