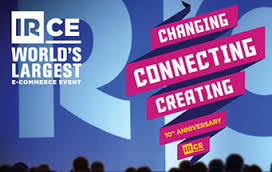 With the support of an exponentially powerful affiliate marketing platform behind them, the FlexOffers.com team has made some big moves this week at IRCE 2014!
The Internet Retailer Conference & Exhibition is the world's largest e-commerce trade show and networking event, with over 10,000 attendees estimated to have descended upon the McCormick Place West in Chicago from June 10th to the 13th. This presented an incredible opportunity for FlexOffers to build key relationships with the elite advertisers and hard-working entrepreneurs that are the backbone of our platform.
---
The exhibit hall will feature over 600 solution providers in an easy-to-navigate setting, and will offer the best opportunity for e-commerce professionals to see first-hand the latest technologies that are creating the new retail economy. Discover partners who will improve your company's ROI and provide solutions you need for your business. Examine the exhibiting companies list to see which services and technologies will be useful to your business. (IRCE.com)
No strangers to networking at the highest levels in our industry, our team took full advantage of the time spent in Chicago to meet with companies we are looking forward to doing business with in the very near future.
Juan Gomez, Jennifer Gutman, and Gus Brito  with a quick photo before they entered the fray of IRCE 2014. 
Chances are you saw one of us roaming the exhibition hall between meetings and networking with others during many of this week's official receptions. The FlexOffers.com team members that were in attendance included:
• Juan Gomez, Director of Affiliate Marketing
• Jennifer Gutman, Senior Affiliate Manager
• Gus Brito, Director of Network Development
If for any reason you didn't have an opportunity to meet up with us during IRCE 2014, or would like to follow up, please contact us at [email protected] with "IRCE 2014" in the subject heading.
We're glad to have connected with so many professionals during IRCE 2014, and anticipate meeting even more in a few weeks at Symposium New York on June 25th and 26th. Chicago was an absolute blast, and now we look forward to the sights, sounds, and energy of New York; hope to see you all there!