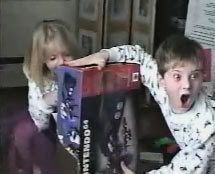 This week on our Holiday Bargains blog, FlexOffers is focusing on seasonal discounts for the goods that bring joy to children of all ages: toys. Sure they're mostly injection-molded plastic and cotton-stuffed fabric creations, but these trinkets are often cherished as representations of feelings far too complicated to express. Also, the flashing lights and sounds are really, really cool.
Santa and his elves can't do all the work by themselves this year! Take a look at these deals on top toys available today via the FlexOffers network!
---
---
Universal Appeal
Whether celebrating Christmas, Hanukkah, Kwanzaa, or even Festivus, there are a few retailers whose very mention invokes happiness and curiously good behavior in younglings everywhere.
If your readers don't want to grow up, chances are they're a Toys R Us kid. A name synonymous with holiday fun for generations, you can find all your wishes at ToysRUs.com during The Great Big Christmas Sale (offer valid 12.7.14 through 12.13.14), including LEGO sets, classic board games, and toys from Disney's Frozen that little princesses will never want to let go.
The CP Toys affiliate program grants even more opportunities to promote constructive playthings to your patrons, such as train sets, puppets, and costumes for playing pretend. During the Holiday Sale at CPToys.com, you can get 10% off site-wide with the code 13CJ10.
Affiliate programs from big retailers like Wal-Mart.com USA, LLC and Target.com are also in the sales spirit when it comes to toys this season. At Walmart.com you can find the best deals on toys with free shipping on orders of $50 or more, which is far more convenient than transporting a giant outdoor electric ride-along vehicle yourself. Target.com is an ideal outlet for gamers to shop this winter, particularly when they can buy two video games and get one free with hundreds to choose from.
Left of Center
There's a good chance that many of your audience's regular sources for toy purchases are running low on inventory by now, but there are always other options.
Barnes & Noble (yes, the premium bookseller) is an excellent source for educational toys. Aside from science kits and art supplies, shoppers can find savings on My Pal Scout, My Pal Violet, LeapBand, Leaptop and more through 12/15/14. These playthings aren't just entertaining, they're enlightening.
Should any of your web visitors gravitate to the Dark side of the Force or find themselves particularly fond of cats, bacon, and unicorns, they'll want to check out ThinkGeek's Holiday Gift Center. There, at ThinkGeek.com, they can stock up on pop culture-inspired curiosities like Star Wars Gingerbread Cookie Cutters and Dr. Who Charm Beads.
To reassure kids that their proper behavior will be well-rewarded (instead of merely being good for goodness' sake), parents can order them a personalized video from Santa Claus through the PortableNorthPole.com affiliate program. They offer unlimited videos messages and calls from Santa, as well as a bonus Christmas Eve video for 10% off with code PNP15BZM (valid until 01/31/2015).
Remember how disappointed you were all those years you didn't receive a Red Ryder, carbine action, two-hundred shot range model air rifle? By promoting these and other amazing toy advertisers from FlexOffers.com, new generations can finally experience that same kind of fun this holiday season. Besides, what's the worst that could happen?