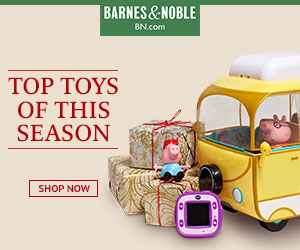 As a parent during the holidays, there's nothing quite as idyllic as curling up with a good novel by the fireplace next to your partner while the kids play with their new toys a few feet away. By promoting the Barnes & Noble affiliate program on your website, you can help your audience members recreate this tranquil scene, granting them access to some of the most sought after books and toys of the year.    
If your readers are stumped about what holiday gifts to get for the music lovers, history buffs, picky teens, and Jedi in their lives, Barnes & Noble is the only place they'll need to shop.
---
Take 25% Off Any Item With Code 25BNFAMILY! Shop BN.com. Valid 12.10 – 12.13.15.
Take $10 Off Your Purchase of $75 or More With Code BNPRESENT! Shop BN.com. Valid 12.15.15 only.
Save on all NOOK by Samsung Tablets. Starting at $119.99 (Was: $129.99) at BarnesandNoble.com. Ships Free. B&N Members save an extra 10%.
30% Off Holiday Boxed Cards! Shop BN.com
First and foremost, Barnes & Noble serves as a treasure trove of literature, exploring centuries of ideas. They're a resource for students catching up on classic works for school, as well as a haven for people with never-ending curiosity. Want to learn how to cook, play a guitar, or survive in the den of a giant dragon? Barnes & Noble has books on all those topics and more, in both physical and digital formats. Just as some people are always tempted to make a purchase when they walk by their favorite coffee shop or shoe store, millions of customers over the years have willfully given in to the wonders that this book store chain holds.
Having books on such a wide variety of topics in their inventory makes them a rather useful shopping outlet during the holidays. Your site visitors struggling to find a present for someone who seemingly has it all needs only to browse BarnesAndNoble.com for a best-selling book on the subject. If the intended recipient already owns all the books in a particular series, one could buy them a collector's edition or even a few collectibles to proudly display on their bookshelf or on their desk at work. The shopping options are practically endless.   
Shop Barnes & Noble's Hundreds of NEW Games, Hobbies & Collectibles! Shop BN.com
Design, Create, Build, and Make with Barnes & Noble's Selection of Hobby Kits! Shop BN.com
Take your LEGO building skills to the next level with these iconic LEGO Architecture structures! Shop BN.com
Though books are their strong suit, Barnes & Noble caters to their fun-loving customer base with pop culture collectibles and toys that capture the imagination of children and those still young at heart. Generations of people who enjoy building LEGO construction sets will be enamored by the variety of current and hard-to-find models this retailer has in stock. Searching for the perfect stocking stuffer? The Barnes and Noble affiliate program can help you promote discounts on popular vinyl figures from Funko or quality holiday ornaments sure to put a smile on someone's face.
When deciding what activities to take part in with the entire family gathered together, Barnes & Noble has quite a few solutions. They've casual card games and board games available to buy, including classics like Clue, Munchkin, Scrabble, Settlers of Catan, and multiple editions of Monopoly. My family very rarely plays Monopoly anymore as everyone gets a bit too serious, what with the board flipping and all. It's all in good fun, though, especially if you're not the one landing on a Boardwalk. 
No affiliate program appeals to customers' innermost desires quite like Barnes & Noble can. With just a quick glimpse of their inventory and discounts, you too will see the obvious benefits of marketing them on your site this holiday season via FlexOffers.com.