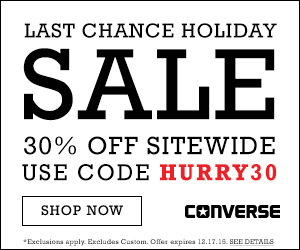 Combining comfort and timeless style, Converse shoes are as iconic as casual footwear comes. This beloved brand has earned loyalty from sneakerheads and casual customers alike who appreciate a quality shoe that can be identified from a block away but still admired up close for its fine detailing.
Searching for a popular advertiser on FlexOffers.com to promote on your website this holiday season that shoe collectors will love? Look no further than the Converse affiliate program.
---
Take 30% off almost everything at Converse. Use code HURRY30 at checkout. Offer valid 12.13 – 12.17
Free Ground Shipping at Converse.com. Excludes Custom products. Offer valid 11.17 – 12.22
Free 3 Day Shipping at Converse. Excludes Custom.
Designers and distributors of the classic Chuck Taylor All Star canvas basketball shoe, Converse products have been seen on people of all walks of life. From movie stars walking the red carpet to school children having fun on the playground during recess, Chuck Taylors are a favorite feature in closets across the globe. Converse.com makes these high tops available for women, men, and kids in a variety of colors, ensuring there's a pair of Chucks for nearly every ensemble imaginable.  
If the vibrant colors and snazzy patterns of the Chuck Taylors sold through the Converse affiliate program don't meet your readers' style standards, they can customize their own pair for a true one-of-a-kind look. Shoppers at Converse.com can design their own pair of Chuck Taylor high top or low top sneakers, personally picking the color of everything from the outer body of the shoe to the tongue, stitching, and even the eyelets to run your laces through. What's more, you can even engrave up to 12 characters on the shoes to make them truly unique.
In addition to shoes, the Converse affiliate program also stocks fashionable apparel for true fans of the brand. While some of the tees, hoodies, and jackets boldly feature the Converse logo, others are far more subdued, which makes this selection appealing to people with various tastes. Pants, hats, socks; whatever you need to look good at the skate park or the movies can be sourced through this digital storefront as well.
Should the amount of choices prove intimidating to your site visitors shopping for their friends and loved ones this winter, Converse.com has a number of curated style guides posted that can prove quite handy. They've even a few Chuck Taylor All Star high tops featuring the hottest DC Comics characters, which are sure to be a big hit for whomever is lucky enough to unwrap a pair.
For holiday gifts that are as stylish as they are practical, you can't go wrong with a pair of Converse shoes. Promote these and other deals from the Converse affiliate program on your website via FlexOffers.com today!