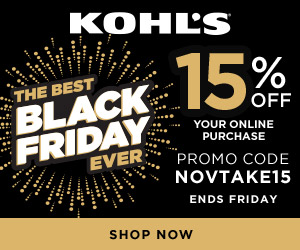 Kohl's is a welcome sight in any neighborhood they're located in, but the hubbub of the holidays may steer some shoppers away from potential crowds in search of incredible deals. As an affiliate marketer, you have the uncanny ability to appeal to all of these customers come Black Friday with a high potential of profitable results.
FlexOffers.com is focusing on the Kohls Department Stores Inc affiliate program in this installment of our Holiday Shopping Havens series, as they've got something for everyone on your audience's list this year.
---
---
70-75% off Fine Jewelry and Sterling Silver Jewelry. Select Styles. Valid 11/23-11/27.
Additional 25% Clearance Break: $12.37 Apt. 9® Peep-Toe Slingback Wedges – Women Orig $54.99
ONE DAY ONLY: $34.99 Adidas, Asics and Reebok Athletic shoes. Regularly $69.99-$79.99. Valid 11/25 only.
ONE DAY ONLY: $9.99 Character fleece for juniors and girls 7-16. Regularly $30. Valid 11/25 only.
Whether outfitting an apartment for the first time or redecorating a home before the extended family shows up for dinner, Kohl's is the place where your readers can do so affordably. They've dining room sets with stylish tables and chairs for under $200, beautiful window treatments, and festively scented candles that can make any space smell like the holidays. Anyone hosting a feast should also stock up on extra bedsheets just in case a few guests end up staying the night.
As one who has hosted Thanksgiving and Christmas dinners in the past, I can say with certainty that you'll want to have a few extra gifts on hand to account for unexpected guests. Kohls.com is loaded with popular playsets, dolls, and action figures that kids will have a blast with. Those not savvy as to what the hot toys are this year need only use Kohl's NOW Presenting tool to pinpoint the perfect gift for children at any age. Even adults in a state of arrested development will get a kick out of these toys, though you may just know them as "big kids." It's all in good fun!
60-70% off Outerwear for the family. Select styles.Valid 11/23-11/27.
60% off Bulova watches. Select styles. Valid 11/23-11/27.
$18.99 Toys. Select styles. Reg $39.99-$59.99. Valid 11/23-11/27.
ONE DAY ONLY: $89.99 Video Game Rocker with wireless Bluetooth. Regularly $199.99. Valid 11/25 only.
Looking sharp in name brand apparel can't get any easier for bargain hunters who shop at Kohl's this holiday season. With goods from Juicy Couture, Nike, Ralph Lauren, Jennifer Lopez, and other popular labels, men and women have plenty of outerwear options. It's even easier to buy clothing for kids, as Kohl's Character Shop divides items by popular properties. That way, parents will never mix up the Disney Princesses or Marvel characters again, saving them from a crying fit or two.
Once the dishes have been done and everyone's left back home, it's time for your patrons to get back into physical shape. Your site visitors can slim down in style using the high quality workout gear sold through the Kohls Department Stores Inc. affiliate program. Thick sweatshirts, running shorts; whatever it is that people need to gear up and get off their couch after the turkey coma wears off can be found here. With all of the Black Friday discounts available at Kohls.com this Black Friday, there's never been a better time to shop there.
Kohl's is the all-encompassing outlet your website has been sorely missing this Black Friday. With an abundance of clothing, home décor, and toys stocked, they're sure to be a hit among your patrons this winter.
Promote deals like these and others from the Kohls Department Store Inc affiliate program today via the FlexOffers.com network!