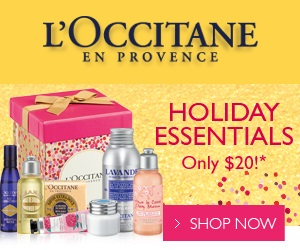 Next in FlexOffers.com's ongoing Holiday Shopping Havens series we shine a spotlight at a bastion of beauty and fragrance products, L'Occitane en Provence. Backed by innovative research and ethically sourced ingredients, this Mediterranean merchant is synonymous with quality and unmatched consumer satisfaction.
The shopping season is in full swing, so what better time to make the most of the offerings found through the L'Occitane en Provence affiliate program? Read on and discover the best promotions available from this respected retailer.
---
Check out current deals and special offers from L'OCCITANE. Shop Now!
Limited Edition Sparkle Gift Set – Only $20 with any $45 Purchase! Over $40 Value! Use Code: SPARKLE
---
At this time of the year, customers will be flocking to stores in hopes of stocking up on skincare goods, be they in the wintry Northeast or somehow-still-85-degrees-in-November Florida. L'Occitane en Provence offers both moisturizers to combat winter's chilly gusts and SPF-ready lotions to protect against UV rays and beautiful, but punishing, sunshine. Best of all, your viewers can enjoy L'Occitane's remarkable products by ordering from the comfort of their homes, especially with incentives like free shipping on all orders.
In addition to formulas that fortify the skin in the face of the elements, L'Occitane en Provence makes available a winning lineup of creams, balms, and toners made to address specific cosmetic concerns. Shoppers will find themselves quickly filling their virtual carts with the retailer's Immortelle line of wrinkle-defying products, and once they discover the nutritional powers of shea butter-infused ointments, they will marvel at their visibly healthier, more vibrant appearance.
---
Your Luxurious VIP Holiday Gift Free With any $80 Purchase – $40 Value! Use Code: LUXURY
24-Piece L'Occitane Advent Calendar – Only $49!
---
Men, don't think that your rugged bodies can't benefit from a little moisturizer once in a while. L'Occitane offers a line of treatments specifically designed for men, with shaving creams, deodorants, shower gels, and colognes all ready and able to maintain skin firm as a tree trunk yet soft as silk.
Speaking of fragrances, L'Occitane en Provence's collection of Eaux de Toilette highlights the alluring power of Earth's natural scents. Ladies will love the floral Arlésienne and the Mediterranean-inspired Peony, while gents will embrace the deep, woody Vetyver and the sensual Eau des Baux. What's more, home perfumes and candles are offered to transform the home into an aromatic paradise – because the smell of holiday leftovers does not a welcoming abode make.
The list of enchanting products continues, with massage oils, conditioners, liquid soaps, scrubs, makeup removers, and foot creams available – all sourced from natural, organic ingredients and produced with the utmost care for the environment. Indeed, shopping at L'Occitane en Provence is as much a treat as it is receiving one, or a handful, of its delightful goods.
L'Occitane en Provence is an obvious choice for affiliates looking to maximize their performance in the beauty and skincare market. With a catalog of products designed to revitalize, rejuvenate, and refresh consumers' external and internal appearance, this retailer proves to be a relevant and worthwhile advertiser at this and any time of year.
Promote the L'Occitane en Provence affiliate program through the effective marketing materials found in FlexOffers.com and collect copious commissions today!