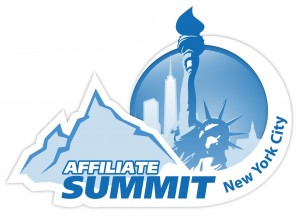 FlexOffers' second day on the exhibit floor at Affiliate Summit East 2014 was as busy as our first, with merchants steadily stopping by Booth 206 until the place shut down.
---
Between multiple early meetings and a session on digital marketing strategies, our morning was off to a fast-paced start. The lull we were anticipating due to the previous night's festivities was short-lived, even with Bone Thugs-N-Harmony headlining the Affiliate Ball.
Our corner spot in the Westside Ballroom once again proved to be an incredible asset, as was our Flex, Tweet, and Win contest that kept on picking up steam as the word got out. While some attendees took convincing to flex in front of our booth, others were all too happy to show off the results of their time at the gym. Those who did flex caught the eye of others passing by, who in turn approached the booth and learned what FlexOffers is all about.
*CONTEST UPDATE* The winner of the Flex, Tweet, and Win contest will be notified via email soon. Keep an eye on your inbox!
The lively Affiliate Summit East crowd that stopped by our booth was robust with mutually beneficial opportunities. Thanks once again to eBay, eWatches.com, Criteo, BrandVerity, Lending Tree, New Balance, 1sale.com, FSAStore.com, and all the other professionals we had the pleasure of conversing with. We hope to forge even stronger business relationships with you all in the near future.
Though we've been preparing for months, and the convention lasted for days, Affiliate Summit East 2014 was over in what felt like an instant. As jam-packed as our agendas were, there were plenty of other companies we would like to have met with while networking in New York. If you happen to have missed FlexOffers or would like to follow up, please reach out to us at [email protected] and enter ASE14 in the subject line- we'll be sure to get inn touch with you soon!
The FlexOffers.com team most certainly had a great time in New York for Affiliate Summit East 2014, and we look forward to the next opportunity we'll get to interact with our fellow industry brethren and create powerful new connections in person.
See you in Vegas for ASW 15!