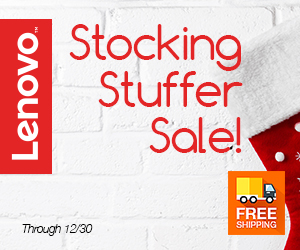 As technology continues to evolve holiday wish lists around the globe will likely follow suit. Give the techies among your audience access to the latest innovations in the realm of electronics by promoting the FlexOffers' high-tech holiday gift guide now available on the FlexOffers network!
---
Through the Lenovo USA affiliate program, tech-savvy individuals will gain entry to a wide variety of gadgets that enable them to enhance their fun and/or efficiency with any given task. Lenovo.com's inventory is comprised of over 800 items guaranteed to make any technocrat's life easier, at prices that won't break the bank. Currently, at Lenovo USA, shoppers can receive an extra 10% off select electronics and tech gifts!
Get an EXTRA 10% off select electronics and tech gifts!
---
It's not uncommon for families to regularly surf the World Wide Web, but in doing so they could potentially make themselves susceptible to password-related data breaches and other cyber threats. Thankfully keeperSecurity.com offers plans that protect subscribers' ID and electronic devices from being compromised through features such as its two-factor authentication, secure file storage, version history, and more.
Get 30% off Keeper Unlimited, Family and Family Bundle!
---
A simple call can shorten distances for those who cannot be together for the holidays. By promoting the Tello Mobile affiliate program on your landing page, your web traffic can keep in touch with their loved ones during this joyful season with one of Tello | Mobile's flexible phone plans. Tello | Mobile offers unlimited talk and text plus significant data for an affordable price, allowing budget-conscious consumers to continue creating memories no matter where they are.
Unlimited Talk & Text, plus 2GB Data for $14 a month! Start Saving at Tello.com
---
Commuting to work while listening to popular radio stations is more than enough to ensure any weekday warrior's enjoyment. However, their morning joy may come to a screeching halt the moment they park their car and step out of their vehicle. Now, new SiriusXM members can keep their morning listening party going as they'll be privy to outside the car streaming of over 300 channels, free of charge for the first three months of service.
Sirius XM Outside the Car Streaming 3 Month Free Trial! See Offer Details
---
The GoPro Hero8 allows photographers on the go to capture action shots that would otherwise be unattainable. As a result of its digital lens and multiple level stabilizations, adventure seekers can now record or photograph the best view of their pastimes at a discounted rate. For a limited time, gadget heads can save up to 70% off the new Hero8 Bundle, which contains a head strap, shorty grip, a 32GB SD card, and a spare battery.
Get 70% off the new Hero8 Black Bundle
---
Embracing new technology is difficult for some but early adopters who enjoy new television tech needn't look any further than Samsung. The Samsung 65" class Q9FN QLED smart 4k UHD TV is designed with quantum dots that enable your readers to immerse themselves in more than a billion shades of color. During the holidays, your readers can save $800 on the Samsung 65" Class Q9FN QLED and update their living room television for a superior visual experience.
Save $800 on a Samsung 65″ Class Q9FN QLED Smart 4K UHD TV (2018) Reg. $3,799.99. Plus free shipping!
---
Don't miss your chance to promote the FlexOffers' high-tech holiday gift guide now available on the FlexOffers network!