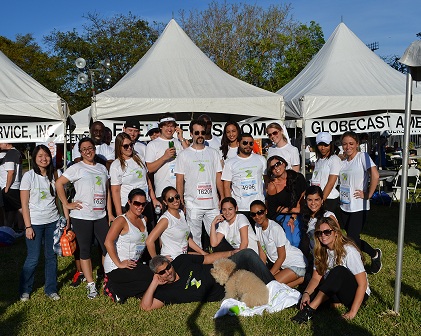 It was a beautiful evening last night during the 27th annual Mercedes-Benz Corporate Run in Miami, a race that saw 830 neighboring businesses and 22,640 participants in South Florida racing a 5K marathon before gathering at the Bayfront Park finish line.
In first place for the Men's Division was Andrew Letherby of New Balance with a time of 15:18. The fastest runner in the Women's Division was Erika Huerta of Iconic Construction at 18:53. For the BB&T Bank CEO Competition, which tracked the times of the most senior full-time employees of companies participating in the event, John Santiago of Media 8 won the Men's Division with a race time of 19:10 and Monica De Abreu crossed the finish line at 22:07.
---
Flexibility is the Key to Racing Success
Even though it was only our first year participating in the event, FlexOffers made an instant impact and many friends by demonstrating stretching techniques and offering towels to help runners cool off- a party favor that soon saw our company logo on display far and wide throughout the Downtown Miami area.
Everyone who participated in the race from FlexOffers.com finished, and many co-workers who didn't make the 5K trek offered a hand at our tent by offering refreshments and support. Our team was stronger than ever the event, welcoming each runner with a resounding round of applause as they found their way back among familiar smiling faces.
Performance Prowess
Following up with Omari (pictured below), the 30-year-old blog writer from FlexOffers who we spoke with earlier in the week: "I think the race was awesome." He continues, "Being able to run down the streets of downtown Miami and Brickell with (nearly) 23,000+ people in unison was one of the experiences that is hard to forget. I can't wait for next year's run!"
Racing to the finish in 21:56! Amazing!
Many coworkers expressed a similar sentiment the following day after the race, and were thoroughly happy that cool spring evening, enjoying healthy snacks with others in front of beautiful Biscayne Bay.
Ecstatic with our overall performance and eager to interact with local businesses again next year, the entire team at FlexOffers is already preparing for the next running of the Mercedes-Benz Corporate Run. Be sure to look for our runners next year, and take a look at a few of our star athletes below!
Congratulations, everyone!