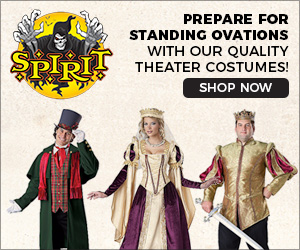 Since today is Friday the 13th, it's probably a good idea to avoid lakes, sleepaway camps, and the outdoors altogether. You could instead promote these frightening Friday the 13th deals on your site from FlexOffers.com in the safety and comfort of your own home.
Just be sure to lock the doors and leave the lights on.
---
A spooky seasonal favorite this time of year, SpiritHalloween.com stocks many more licensed costumes and props than any one of their brick and mortar stores could ever contain. Whether trick-or-treating solo or as a group, your readers have plenty of options to choose from here.
Special Sneak Peek! Free Shipping on the 2017 Fenced High Voltage Zombie at Spirit Halloween! Code SAND17. Terms apply. Shop Now!
---
If horror films have taught us anything over the years, keeping in peak cardio shape is a key to survival. Your audience members can stock up on all the quality supplements and multivitamins they'll need to get in shape through the BodyBuilding.com affiliate program.
Friday the 13th Sale! Take 13% Off Sitewide at Bodybuilding.com! Use Promo Code FRIDAY13 and Save Now!
---
Charming Halloween-themed tops, jewelry, and even handbags can all be bought at Macys.com. Homebodies who prefer staying in on fright night and revelers who want to make the perfect party treats will die over the Halloween baking supplies sold at Macy's as part of their Martha Stewart Collection.
Save 50% Off Kid's Halloween Styles Plus Extra 25% Off with Promo Code FRESH! Shop Now at Macys.com! Valid 10/11 Through 10/15!
---
It's no coincidence that the houses that give out M&M's on Halloween are the most beloved ones on the block. Your patrons can design their own chocolate candies at mymms.com to pass out with ghosts, witches, and other images printed on them through this favorite online outlet.
Enjoy 10% off sitewide with code HALLOWEEN10 + Free Shipping on Orders of $100+ on mymms.com (valid 10/8-10/21)
---
With their vast selection of pop culture clothing and collectibles, Hot Topic is an optimal promotional option for Friday the 13th, All Hallows' Eve, and any other day of the year. Cosplayers who want to put together a costume that's faithful to its source material will be thrilled with Hot Topic's assortment of schwifty licensed accessories.
Up to 50% Off Halloween Costumes! Limited Time Only. Shop Hot Topic Today!
---
Filled with costumes, candy, and décor at affordable prices, Walmart.com is a bargain hunter's dream during the month of October. While they're there, your web traffic may even want to get a jump on shopping for the winter holiday season, which is right around the corner. Now that's scary.
Boo! All you need for Halloween at Walmart!
---
Retailers are slashing prices everywhere, so promote these Friday the 13th sales via the FlexOffers.com network today!