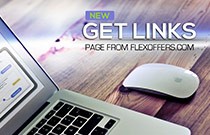 FlexOffers.com is pleased to announce the first big tech rollout for our network in 2015: the new and improved Get Links functionality! Currently in beta, we listened to user feedback and implemented a few upgrades that enhance the overall experience when searching for promotional links to market on your website. The exponential growth of our network had been influencing the rate at which publishers could pinpoint the exact type(s) of links they were looking for, but that issue has since been addressed. Even if your search yields hundreds of thousands of links, the page won't time out now as it had on occasion when handling such large results in the past.
---
---
Aside from improving performance, a number of aesthetic upgrades have also been made to the Get Links functionality. Essentially, we've redesigned the interface itself to create a more user-friendly experience. All available search filters have been consolidated into a single pane (search by advertiser, keywords, categories, etc.). More details about the link users select are also readily available in the search results (advertiser logo image, banner image, coupon code, EPC).
Even minor upgrades, such as the ability to see a live, clickable preview of a link or a full-sized preview of a banner image when selected, is designed to help publishers get a better understanding of the content available to them.
Publisher Feedback

Get Links, Enhanced Coupon Codes, and numerous other upgrades to the FlexOffers.com network have been influenced by publisher feedback, so we'd love to hear from you.
Is there anything specific YOU would like to see in the Get Links section? If so, let us know!
Our team is hard at work developing numerous new upgrades for our platform, so any and all input is welcomed and encouraged. Send an email with your suggestions to [email protected], and we'll do our best to incorporate them into future upgrades made at FlexOffers.com.