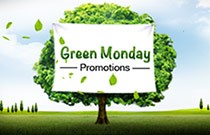 If you think you have a moment to catch your breath now that Black Friday and Cyber Monday are over, publishers, you're missing out on the joy that is Green Monday. Marking one of the highest online sales days of the year, this presents another opportunity to cash in on consumers frantically shopping for their loved ones this winter.
Take a look at all the incredible Green Monday deals now available via FlexOffers.com!
---
---
With Envy
Sure there were doorbusters available a few weeks ago, but not all of your patrons were able to snatch up the savings while they lasted. Now's another chance at comparable discounts.
This year on Green Monday, Macys.com is holding a Friends & Family sales event granting an extra 25% off plus free shipping on purchases of $50 or greater (ends 12/8). Veteran consumers already know this offers more opportunities to save on apparel and housewares than any trip to a shopping mall over the next few weeks could.
Also featuring exceptional deals this season is the Sears affiliate program, with Green Monday touting an extra 5-10% featured categories plus hundreds of gift ideas already on sale. Eager shoppers can be sure to find high-quality tools, electronics, and apparel for the whole family through this outlet for less.
Speaking of family units, the holidays are also a time to treat our four-legged companions at home. PetSmart.com is the perfect place to browse and buy pet essentials and a training toy or two, particularly when customers can save $10 on $50, $20 on $75, $30 on $100 plus free shipping (no minimum, valid 12/8 only).
Bountiful Harvest
Many families have had their fill of turkey this year, and a large number of them are looking forward to a succulent Christmas ham, but there are still millions of households to account for who prefer different kinds of feasts on their table.
Pescetarians (people who solely consume seafood and fruit/veggies as part of their diet) will be pleased with Legal Sea Food's Lobster Packages from the Legal Sea Foods Gourmet Gift Division. With a little drawn butter and maybe a squeeze of lemon, family members will be too entranced to worry about breaking certain traditions. Following suit is the Vital Choice Wild Seafood & Organics affiliate program, which stocks some of the world's finest wild seafood and organic fare (free shipping on orders over $99).
Regardless of what protein, if any, your readers serve this winter, they can all be accompanied by the produce sold through the Farm Fresh To You affiliate program during their Green Monday Sale. These organic fruits and veggies can be transformed into tasty sides with a few swipes of a blade and a quick sauté, or served raw to retain most of their healthful properties.
Once all the plates have been collected off the table, your site visitors will be glad they frequented ReUseIt.com and procured food containers for everyone to take some leftovers home. They're celebrating Green Monday by offering free shipping site-wide with the code LSRUGREEN14.
This diversified gathering of advertisers is but a sampling of the Green Monday promotions currently being offered at FlexOffers.com, so check them all out before the deals are gone for good!