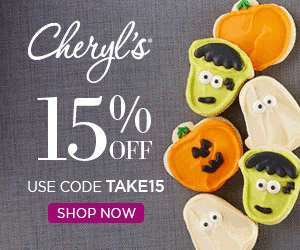 Happy Halloween, everyone! Promote these limited-time Halloween Day savings on your site through FlexOffers.com today!
---
If trick-or-treating is no longer socially acceptable at your audience members' ages, or they're relegated to handing out candy at home, a spooky film from Barnes & Noble will cure their boredom. Less frightful animated media is also available for kids who may not fall asleep after watching classic slasher films.
Save Up To 50% on Halloween Movies! Shop BN.com
---
We've been singing the praises of Cheryl's gourmet baked goods for weeks, and for good reason. Their fresh-baked gifts will be a hit at any home or office Halloween party your readers will be attending, and a selection of their best-sellers can even be shipped the same day they're ordered!
Celebrate Halloween and take 15% OFF at Cheryls.com! Use code TAKE15 (While supplies last)
---
Chocolates ordered at FannieMay.com are so delectable, your page visitors may not want to drop them into the neighborhood kids' goodie bags at all. Fun treats like cookie masks and haunted house decorating kits are also stocked and ready to ship.
Stock up just in time for Halloween! Get 24 Chocolate Bars for only $20 at FannieMay.com!
---
Your patrons will definitely fall for the fall snacks sold by the 1-800-BASKETS.COM affiliate program. Hot cocoa, chocolate-covered graham crackers, and other special seasonal treats may be the trick to convert a few extra clicks.
Take advantage of this frightfully good deal: 25% OFF Halloween Gift Baskets at 1800Baskets.com! Use code 25CAT (Valid 10/17 – 10/31)
---
Placing links from the Groupon affiliate program on your landing page is an engaging way to entice bargain hunter hunters on your site, and it shines a spotlight on local businesses who are offering exceptional goods and services. In fact, they've quite a few deals on Halloween products you and your web traffic might regret missing out on.
25% Off 1 Dozen Halloween Cupcakes at Unique Designer's Cake $1.00
---
Lots of spooky songs, movies, and stories can be found at the Apple iTunes Store. As their content can be instantly downloaded to one's digital devices, it makes numerous memorable Halloween entertainment options effortlessly possible.
Halloween: Scary Halloween Short Stories for Kids (Unabridged)
---
Don't let the memory of these enticing discounts haunt you. Make the most of these and other great Halloween Day savings via the FlexOffers.com network!