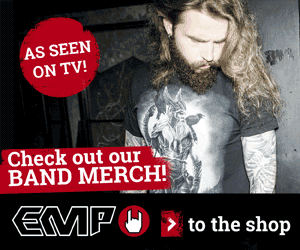 With bands already announcing their tour dates for 2018, there's no better time to appeal to the music fans among your audience by promoting the Emp.co.uk affiliate program on your site via the FlexOffers.com network.
Take advantage of these hardcore discounts on alternative music merch and pop culture products at Emp.co.uk today!
---
Use code metalbag to get a free bag when you spend £25 or more from Metallica-range While stocks last
Use code BRAND to get 15% off EMP brand products*
EMP Winter Sale – Big choice & Small prices! – While stocks last
---
From The Black Album and Master of Puppets to S&M and Hardwired … To Self-Destruct, Metallica has been a musical force to be reckoned with for nearly four decades. That longevity has earned them millions of loyal fans worldwide, who go rabid for any Metallica merch they can get their hands on. Not only does Emp.co.uk stock hundreds of officially-licensed Metallica items, but (for a limited time) fans can get a free Metallica tote with £25+ purchases, too.
If your readers are into other bands like the Red Hot Chili Peppers, Disturbed, or AC/DC, Emp.co.uk caters to their fandom as well. Bargain hunters and aspiring musicians alike know a good deal when they see one, so they'll definitely appreciate the savings of up to 70% off select merchandise during the EMP Winter Sale. All that money they'll save can go towards another tee, a sleek leather jacket, or their portion of the gas when driving to the show this summer.
---
---
In addition to music fans, the Emp.co.uk affiliate program is also a haven for pop culture collectors searching for the next piece they can own and brag to their friends about. Be it a Breaking Bad coffee mug featuring Heisenberg or a Rick & Morty Funko Pop! Vinyl figurine, there is a seemingly endless amount of can't-miss gear sold through this online storefront.
Gamers have a lot of loot to look at when visiting Emp.co.uk through the links on your site as well. Classic characters like Super Mario and Sonic are all over everything from shirts to pint glasses, as are mascots from more recent titles like Overwatch, Borderlands, and Five Nights at Freddy's. Whether your patrons play competitively or casually, they'll be able to rep their favorite video games with the goods sold here.
---
---
Don't miss your chance to capitalize on these enticing Emp.co.uk affiliate program deals available at FlexOffers.com!