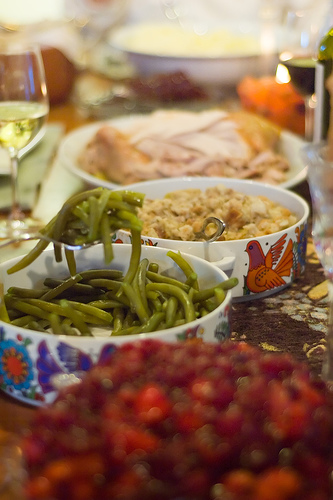 From partaking in a perfectly cooked roast at a beautiful oaken table surrounded by loved ones to casually conversing with friends at a cocktail party, the holidays are filled with multiple festivities where food and drink become part of lifelong memories. Not all members of your online audience are top chefs or master sommeliers though, and could definitely use the aid of a few food and cooking affiliate programs to round out their holiday menus.
Aiding Amateurs who Allez Cuisine: Finding the Right Food Affiliates
Until you've been forced to order a half dozen pizzas after a turkey has been overcooked, you might not realize quite how important properly preparing a meal is during the holidays. If the only chance an overzealous novice chef gets to actually cook is during an important family gathering, they could easily become preoccupied with the buzz surrounding them and forget to turn the oven off- or on.
There are numerous affiliate programs available to promote on your website that not only provide delectable hors d'oeuvres to keep the hungry masses happy and out of the kitchen, but the actual main courses themselves so that more time can be spent with company. Rather than working hard for hours (and sometimes days) to properly prepare main courses, these flavorful feasts have been selected to assure that only the most succulent cuts are served.
Also available through many of these affiliate programs are all of the sweet desserts the heart could desire. Usually coyly avoided throughout the year, the holidays are often a delicious excuse to indulge in a slice of pie or a crème brulee…or two.
---
Quality Accompaniment: Beverages Throughout and After a Meal
While you very well could serve a few filet mignons to a crowd alongside a glass of water, chances are they would rather enjoy their fine cut with a robust glass of wine instead. Thankfully there are affiliate programs available to promote that offer numerous wines and spirits to enhance the flavors of many meals. If selecting the specific wines proves intimidating for your audience, many of these programs also offer taste suggestions to keep flavors from overpowering one another.
For after-dinner conversation, there are also programs that deliver gourmet coffees, teas, and all necessary steeping and serving accessories so that users can create the best brew. Even the most delicate deserts taste a little sweeter with the rich aftertaste of a dark roast coffee on the palate.
Tasting Success
Whether on the dinner table or online, making the right choices could either create an unforgettable experience or leave people suffering from a bad aftertaste. Promoting affiliate programs that offer prime selections of main courses, as well as those with the knowledge and experience to offer the perfect wines and coffees to compliment these meals, can promote positive momentum on your site and maybe even prevent a few holiday cooking disasters from happening. Some, but certainly not all.