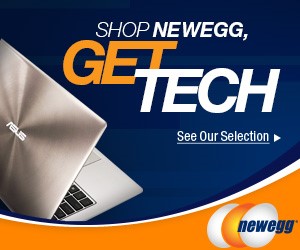 Technical items are among the most popular purchases during the holidays, but they can also cause one's budget to wither away in the blink of an eye.
Help your page visitors land the latest technological advances in office solutions and home entertainment at discount prices by promoting these high-tech holiday gift guides now available on the FlexOffers network!
---
If the techies among your audience are in search of the latest in electronics, then you'll certainly want to market the Newegg.com affiliate program on your site. Newegg.com offers low prices on computer software, hardware, gaming, and new OLED televisions which deliver the best picture quality on the market due to its refresh rate and ability to generate deeper blacks and brighter whites.
$2,003 OFF LG C8 77″ 4K HDR Dolby Atmos Smart TV with AI ThinQ OLED77C8PUA (2018) – $6,996.99 at Newegg.com, ends 11/24
---
Through the Lenovo USA affiliate program, your readers will have access to gaming laptops, desktops, and accessories that deliver unbridled excitement and save pennies on the dollar in the process. Currently, at Lenovo USA, gaming enthusiasts can save up to $400 on Legion gaming laptops and desktops, which enhances online gameplay through its dedicated media engine which delivers a 19 percent increase in web performance.
Save up to $400 on Legion gaming laptops and desktops + Free shipping!
---
Among a myriad of descriptors, successful nine to fivers are often described as flexible, due to their ability to complete a wide range of tasks. By promoting the Lenovo Canada affiliate program through links on your landing page, your web traffic can equip themselves with a Lenovo Ideapad 330 which mirrors the qualities of its user by encouraging multi-tasking through its lightning-fast AMD Ryzen processor.
Save $425 on the 15.6″ IdeaPad 330 Laptop with Intel Core i7, 128GB, 1TB HDD & 2GB GTX 1050 promo code EXTRA5
---
While dogs are regularly defined as mans' best friend, incessant barking can become quite a nuisance for the pet parents among your audience. Thankfully, Good Life® Bark Control offers the Dog Silencer® MAX which detects and stops barking with its special sound frequencies that work up to 300-feet away, allowing dog owners and neighbors of noisy canines to regain peace and quiet.
Stop Barking Up To 300 Feet Away With The Dog Silencer MAX. $20 Off Flash Sale!
---
American Girl supplies its customers a diverse selection of dolls, granting them the opportunity to choose from 40 different combinations of eye; hair; and skin color, in addition to unique features such as braces; glasses; and earrings. American Girl also sells remote-controlled sports cars, which allows your site visitors' one-of-a-kind doll to hit the road in style and explore new places to visit.
Save Up to $40 Off Doll & Girl Holiday Collection Bundles at American Girl! (Valid 11/2-12/24/18)
---
Renowned for its office solutions, Staples provides your patrons with products that increase productivity and profitability through its optimized tech and affordability. Now at Staples.com, business professionals can rest assured that their hard work won't mysteriously vanish by purchasing a two-terabyte hard drive by Seagate to back up their precious documents for just $64.99.
25% Back in Rewards When You Purchase $75 of Ink or $200 of Toner at Staples.com!
---
Market these high-tech holiday gift guides on your landing page via FlexOffers.com today!