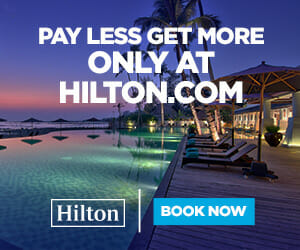 Even though Thanksgiving menus and guest lists are being finalized, many of your site visitors are still waiting until the last minute to book rooms for the long holiday weekend. By promoting the Hilton Hotels affiliate program on your website, you'll give those individuals the opportunity to save on spectacular suites rather than hurt their backs sleeping on a well-meaning relative's couch.
Check out the Hilton Hotels Thanksgiving travel deals available to promote on your site today via FlexOffers.com!
---
Save up to 50% on Sunday nights at participating hotels in the Hilton Portfolio in the Americas, including the Caribbean. Turn your weekends into mini vacations. Book Now!
Get breakfast for 4 & premium Wi-Fi. Book Hilton's Family Fun Package with code PBFFP1.
---
From Atlanta to Austria, there are Hilton Hotels properties all over the world with vacancies for your patrons' holiday vacations. No matter where they call home, chances are there's a Hilton room not far away.
Should your web traffic want to go the opposite route and book a room to take a break from the holidays this season, they'll be able to do so through Hilton.com. Tahiti is exceptionally picturesque this (and any) time of year, and essentially any city along the coast of the Gulf of Mexico makes for a great stateside escape free of snowstorms. There are so many options for enjoyable Hilton locales, it will be tempting for future guests to not consider booking a room for next spring, too.
---
Get $50 daily credit for every night of your stay, at thousands of Hilton hotels worldwide with code RPTVS1.
---
Aside from having resorts all over the world, Hilton Hotels also offers a tiered commission structure for publishers. In fact, their payout potential increases when factoring in if guests are HH Blue members or non-HH members (6.4%), HH Silver members (1.6%), or HH Gold & Diamond members (0.8%) when consuming a booking.
Combine those impressive commissions for new Hilton Hotels guests with the international name recognition that the brand brings to your site, and you've got a winning affiliate program to market this winter and for years to come.
---
---
Make the most of these and other enticing Hilton Hotels affiliate program discounts on your site through the FlexOffers.com network today!