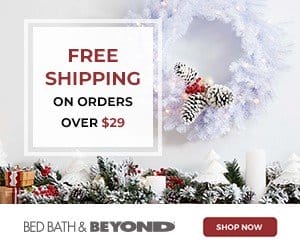 Winter is fast approaching and there's no better way to get into the holiday spirit than decking your very own halls with boughs of holly and other seasonal adornments. Help homemakers capture the essence of the most festive time of the year by promoting these holiday home décor bargains now available on the FlexOffers network!
---
Through the Bed Bath and Beyond affiliate program, your page viewers can find all the requisite items to completely cover their bathrooms in Christmas themed décor. BedBathAndBeyond.com features over 300 seasonal bath options such as shower curtains, soap dispensers, toilet sets, and rug sets guaranteed to evoke comfort and joy during the holiday months.
Holiday Free Shipping on Orders over $29
---
Plenty of time will likely be spent in the kitchen either preparing meals or communing with friends and family over an epic feast during the holidays. Now, those commemorating winter festivities can dine with the holidays in mind when they purchase Anthropologie kitchen and home décor at Dillard's. Dillard's inventory is comprised of seasonal crockery that makes table gathering merrier.
Introducing kitchen & home decor from Anthropologie. Shop festive holiday decor, everyday kitchen essentials, and more decor from the chic label at Dillard's.
---
If your site visitors are in search of decorative accents that prevent them from feeling as frosty as the snowman in their front lawn, then they needn't look any further than the TJ Maxx affiliate program. TJ Maxx offers an assortment of cheerful throws that serve as the perfect accompaniment to their existing furniture and facilitates warmth by way of its ultra-soft polyester fabrics.
Give Festive Decorative Pillows, Holiday Decor, Snuggly Throws & More from T.J.Maxx!
---
Studies have shown that our olfactory senses are closely related to memory. Through the Yankee Candle affiliate program, your web traffic will be privy to a variety of holiday scents and smells that ring their jingle bell and free flocks of fond flashbacks from holidays past. YankeCandle.com contains over 100-holiday fragrances and for a limited time, shoppers can buy two of their favorite candles and receive two complimentary classic jars or tumbler candles.
Bring the Holiday Season Home. Buy 2 Yankee Candles and Get 2 Free Classic Jar or Tumbler Candles
---
By promoting the Total Home Décor affiliate program on your landing page, your patrons will have access to yard art and outdoor Christmas décor that'll assuredly garner praise and adoration from neighbors and passers-by. Total Home Décor's yard art includes popular characters like Santa, Rudolph, and Peanuts, equipped with LEDs that light up each display as well as the hearts of onlookers.
Biggest Sale of the year on holiday decor & yard art. Rudolph, Peanuts, Seasonal Favorites are all on sale.
---
Putting up the same ornaments on a Christmas tree every single year can begin to feel like a monotonous chore instead of a joyous occasion. Thankfully at OrnamentShop.com, your readers can personalize ornaments and find hobby Christmas ornaments represent their specific interests. Currently, at OrnamentShop.com, customers can receive 10% off site-wide and purchase ornaments that pave the way for individual expression through their Christmas tree décor.
ORNAMENTS10 – 10% Off Site-wide 10/11-12/31
---
Market these holiday home décor bargains on your landing page via FlexOffers.com today!