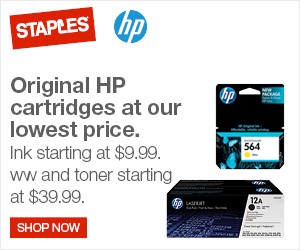 Small business owners are constantly in search of cost-cutting methods, as their establishment's sheer viability oftentimes hinges on adherence to budget.
Give your audience members the tools to reduce overhead by promoting these huge small business savings now available on the FlexOffers.com network.
---
If your readers' small business is need of marketing materials, the Staples affiliate program equips them with promotional products they need to successfully advertise their goods and services. From custom business cards to signs and banners, Staples generates creatives that ensure increased brand awareness at discounted rates.
$20 off Staples Plus one-year membership. Limited Time Only. Apply coupon code 11443 at checkout
---
The ThinkServer TS150 tower server is the perfect first server for small businesses and retail environments thanks to its powerful Intel® Xeon® E3-1200 v6 Series processor. This server is whisper-quiet, operating at 26dB and utilizes 1.2V DDR memory, which enhances energy efficiency by way of bronze and platinum power supplies.
Lenovo Canada Pro SMB Store: Get Exclusive Memeber Savings on ThinkPad, Ideapad, Yoga, Legion PCs, & Monitors.
---
Severe back pain can be a byproduct of sitting at a computer monitor for hours on end. Thankfully, the Versa Desk affiliate program's inventory houses "Sit-to-Stand" desks that allows customers to remedy their backpain by standing while they work at their desk. With the push-of-a-button, business men and women can also increase productivity and alertness by standing at attention in front of their Versa Desk riser.
Buy a monitor arm & desk and receive 15% at Versa Desk! Use code VSD15DM at check out. Shop now!
---
Data breaches are among the greatest risks to businesses today, but the KeeperSecurity.com affiliate program arms your page visitors with the software they need to protect their intellectual property. Keeper Security.com safeguards confidential assets by strengthening passwords, policies, and allows colleagues to confidently share documents through its digitally encrypted vault.
---
If your site visitors have considered onboarding an administrative assistant, they may want to consider Fons Appointment Scheduling Software before incurring such an expense. Entrepreneurs can reduce clerical tasks down to almost nothing, as this mobile-scheduling platform maintains appointments, processes billing and payment, and updates client information.
Running a client-based business – personal trainers, life coach, music teacher, tutor, tour guide? Automate your admin work with Fons! No credit card needed to sign up. Use promo code FallFree for a free month of Fons!
---
If your patrons have ever thought about starting a small business, then they needn't look any further than Business Credit 101. The Business Credit 101 affiliate program offers courses on building business credit that provides upward mobility for their respective companies. Currently at EmeryAdvisoryGroup.com business men and women can learn how to generate up to $250,000 in business funding with no personal credit check.
Get Up to $250,000 in business funding – with no personal credit check! Learn More!
---
Don't miss your opportunity to promote these huge small business savings on your landing page through the FlexOffers.com affiliate network today!