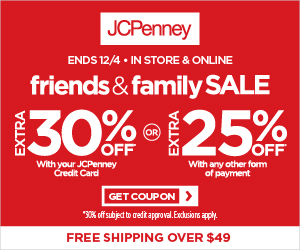 Hanukkah is near, and for every candle on the menorah, there's likely a burning desire to procure hot-ticket items during the holiday months.
Help your page viewers find the merchandise they covet by promoting these hulking Hanukkah deals now available on the FlexOffers network!
---
If your patrons are in search of bare essentials for winter prep or looking for Hanukkah presents for family and friends, then you'll certainly want to market the JCPenney affiliate program on your site. JCPenny offers the latest in fashion, toys, and appliances ensuring customers will discover products that fulfill their needs and wants at discount prices.
In store and online: Extra 30% off with your JCPenney Credit Card, or Extra 25% off with any other form of payment. Ends 12/4.
---
The vineyard vines affiliate program offers your web traffic southern prep attire for the entire family, affording fashionistas access to classic garments that are consistently on-trend. Currently, at vineyard vines, shoppers can save up to 25 percent off full-priced styles by using code HOLIDAY18 upon checkout.
Save on Gifts Under $100 at vineyard vines! (Valid 11/9)
---
While time spent visiting friends and family for Hanukkah may be limited to just eight days, there's no limit to the number of times pesky birds can pass over a vacationer's residence while they're away. Thankfully, Good Life® Pest Bird Control Products offers everything from replica coyotes and owls to supersonic sound deterrents to keep fowls away and protect houses from bird droppings and incessant crowing and/or squawking.
Protect Your Property From Pesky Birds With The Guardian G2 Propane Scare Cannon: Safe, Strong, & Easy To Use. Save $20 With Code: FXSAVE20BCP
---
Traveling with a pet this holiday season just got easier as your readers will be allowed to choose from 1,600 pet-friendly hotels across the U.S., Canada and the Caribbean, when they book with Best Western. Best Western allows up to two domestic dogs in a rented room with a maximum size of 80 lbs. per animal. Other pet types such as cats, monkeys, snakes and emotional support peacocks are allowed at the discretion of each property manager and require prior approval.
Best Western – over 1600 Pet Friendly Properties
---
The Chewy.com affiliate program allows pet parents to drape their puppers and kittens in Hanukkah themed hoodies and pajamas, up to 36 percent off regular price. Chewy.com also offers Hanukkah-inspired hats, collars, toys, and, treats, which permits pet owners to fully immerse their dog or cat in the eight-day celebration.
Shop Hanukkah Gifts for your Pet at Chewy!
---
At 1800GiftBaskets.com, the sweet-toothed members of your audience can purchase Hanukkah gift baskets containing beautifully crafted confections and kosher gifts for kids and adults. For a limited time at 1800GiftBaskets.com, candy coinsures can save 20 percent on Hanukkah Gifts during checkout with code TOV20.
Save 20% on Hanukkah Gifts at 1800Baskets.com! Use Code: TOV20 (Valid 11/28 – 12/2)
---
Market these hulking Hanukkah Deals on your landing page via FlexOffers.com today!