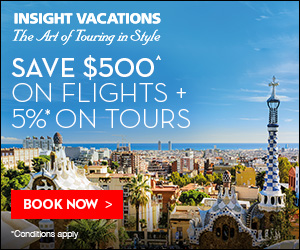 It takes years of experience to coordinate a single magical holiday weekend, which is precisely where the Insight Vacations affiliate program prevails. Their luxury escorted tours go above and beyond regular vacations, and feature five-star service that guests will be bragging to friends and family about for years to come.
Help your site visitors plan the trip abroad of their dreams by promoting these Insight Vacations spring travel offers on your site via FlexOffers.com!
---
Easter Sale – 20% Off All Snuggle Pods With Code: EASTER2017
15% Off Snuggle Pods with code: FLEX15
Personalized Hand Written Messages Included With Every Purchase
---
Some people may be content with waiting hours in line for rides while sloppily finishing off their melting ice cream cones and corralling their kids, and there's nothing necessarily wrong with that. For anyone that wants to enjoy "The Art of Touring in Style" though, a far less pedestrian outing, Insight Vacation can show them a whole new world.
By booking an excursion through Insight Vacations, your audience members can enjoy such signature experiences as sampling an artisan farmer's bounty or the local wines of a Tuscan vintner. Rather than rolling the dice with a tourist trap, you'll get to traverse a town as its locals do, including authentic meals to cultural activities that help guests feel as if they're taking part in the celebration rather than just observing it from afar.
---
FREE GIFT With Every Purchase Over $99
FREE SHIPPING in the U.S. for orders over $99 – excludes Hawaii & Alaska
Create a Custom Snuggle Pod – Chibebe.com – Get Started Today!

---
Long gone are the days of back-breaking beds for those who travel with Insight Vacations. Their team hand picks premium hotels that boast the highest levels of quality and service in the city, in addition to being located in the heart of all that's happening.
Ensuring that everything goes well are the Insight Tour Directors, who possess an intimate knowledge of the area that guests decide to stay at. They take care of all the taxing details one would need to worry about when traveling alone in a foreign country, so that all your readers need to do is enjoy the experience. As tour sizes are kept to a maximum of just 40 people, no one will get lost in the shuffle. There will be plenty of others to share memories with should travelers choose to socialize, though their personal space and privacy will never be compromised. Everyone wins when they're on an Insight Vacation.
---
---
Your patrons will be pleased when they reserve their next trip through the Insight Vacations affiliate program. Make the most of these and other deals through the FlexOffers.com network today!