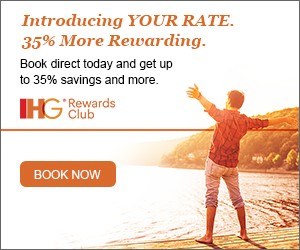 Autumn has arrived but there's still time for your page visitors to book the fall vacation of their dreams through the InterContinental Hotels Group Affiliate program. Whether traveling domestically or internationally, IHG's assortment of globally recognized brands such as Kimpton, HUALUXE, Crowne Plaza and others comfortably accommodates guests wherever they are in the world.
Don't miss your chance to promote these fall getaways from InterContinental Hotels Group now available at FlexOffers.com!
---
Thanksgiving Rate – Save up to 15% with Your Rate!
Book Your Holiday Vacations NOW & Save up to 15% with Your Rate!
Book early and save up to 15% with Your Rate. The best deal, plus all the benefits you love when you book directly with Holiday Inn Express.
---
Nothing puts a damper on a family getaway or romantic couple's retreat like flawed lodging accommodations. Thankfully, IHG's accessibility, aesthetic appeal, and expedience ensures an overwhelmingly positive traveling experience. With over 5,000 properties in nearly 100 countries IHG firmly believes it has the perfect hotel for every occasion, evident by amenities as wide ranging as golf courses for professionals and indoor waterparks for children. Most importantly, IHG takes great pride in delivering "True Hospitality" for everyone, subsequently making vacationers feel welcome and valued.
If your readers are currently in the midst of making fall travel plans, then you'll certainly want to market the IHG affiliate program on your site. Through IHG, customers can still save up to 15 percent on their holiday vacation and trips to Bora Bora and Paris. In an effort to further assist Globetrotters on a budget find the perfect hotel for their unique needs, IHG.com allows them to search hotels by proximity to their preferred airport, activities, pet accommodations, and last but certainly not least – price.
---
Book early and save on a romantic getaway to Paris using Your Rate.
Become a Rewards Club Member and Enjoy our Lowest Rates!
Stay Three Nights & Save Up to 25% at Our Historic Property in Chicago. Experience the InterContinental Life on the Magnificent Mile!
---
IHG is lauded for its ability to genuinely care for and cater to their guests the world over and each year IHG brands and its staff win hundreds of awards as a result. In 2018, IHG was rated by Top as the top employer institute in the United Kingdom and in China. IHG was also recognized by S&P Dow Jones Indices as the industry leader for sustainability, furthering its popularity among traders and investors.
By virtue of its pristine facilities and superior services at discounted rates, tourists will continue to be inclined to book fall hotel accommodations through IHG.com. Currently at IHG, jetsetters can experience the InterContinental life and save up to 25 percent this season while staying three nights at Chicago's Magnificent Mile. IHG facilitates meetings for businesses through its wide range of ballrooms and board rooms that inspire and promote productivity at affordable group rates. If the business men and women among your audience aren't frequent travelers, they might very well want to reconsider as they can reap a world of rewards by becoming an IHG® Business Rewards member. Once enrolled, IHG® Business Rewards members can Earn $1 with each event they book, retail vouchers, office supplies and exclusive offers which rapidly rewards its repeat visitors.
---
---
Capitalize on these and other incredible InterContinental Hotels Group discounts now available to market through the FlexOffers.com network!