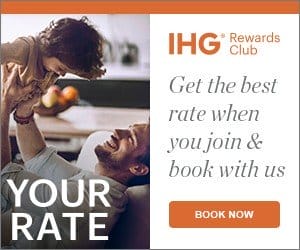 Travel and lodging costs tend to rise exponentially during the winter months. Fortunately, for families planning a holiday trip or visiting relatives out of state, the InterContinental Hotels Group perennially provides savings that allow them to book the family vacation of a lifetime.  Through the InterContinental Hotels Group, holidaymakers can reserve accommodations that strengthen relationships and facilitate the creation of new memories at an affordable rate.
Don't miss your chance to promote these InterContinental Hotels Group family holiday vacations now available at FlexOffers.com!
---
---
Holiday vacations can go a long way toward tightening family ties, but travel plans can easily be compromised when the cost associated with winter travel begins to add up. Through the InterContinental Hotels Group, the jet setters among your audience can make certain the cost of their hotel stay doesn't rapidly accumulate like snow on the ground following a winter blizzard. Recognizing that maintaining a healthy budget can be a slippery slope for vacationing families during the holidays, the InterContinental Hotels Group offers its members savings up to 30% off during its cyber sale. By promoting InterContinental Hotels Group discounts on your landing page, your page viewers can bypass inflated hotel rates and enjoy amenities and services that enable them to maximize their holiday trip.
Whether traveling domestic or abroad for the holidays, the InterContinental Hotels Group offers 14 hotel brands guaranteed to successfully complement its guests' travel plans. IHG has over 5,000 properties in nearly 100 countries, dedicated to delivering "True Hospitality" during the holiday months and beyond. As a result of its reach and accessibility, holiday travelers can make reservations through IHG.com and experience stellar service that makes them feel welcomed and valued wherever they are in the world. In addition to its pristine facilities and first-class service, IHG delivers a bevy of benefits that make its properties not only kid-friendly, but kid preferred. When staying at an IHG property, children 11 and under eat free, which satisfies their taste buds and keeps cost-conscious moms and dads happy.
---
---
Holiday vacationers far and wide will be making the pilgrimage to visit family during the winter months, but if their relatives don't have room to accommodate them, then they needn't look any further than the InterContinental Hotels Group. At IHG.com, your web traffic will assuredly find hotels in close proximity to their loved ones, allowing them to spend more quality time with their extended family and less time on the road. Tourists will also be privy to surrounding local tours, activities, and attractions near their hotel that permit families to embark upon a winter excursion they won't soon forget. Emblematic of IHG's family bonding expeditions is its New York in One Day sightseeing tour, which features an expertly guided NYC tour that delivers a comprehensive, yet private view of the city.
If your patrons desire to break the monotony of enduring cool climates during the holidays, then they'll certainly want to plan a warm-weather escape for their family through IHG. IHG presents a myriad of travel destinations enveloped by the rich culture and a tropical backdrop such as the Holiday Inn Resort Montego Bay. The Holiday Inn Resort Montego Bay is located near the world-renowned Dunn's River Falls, a white river waterfall shown in multiple Hollywood films. For those that prefer to engage in activities at or near the Holiday Inn Resort Montego Bay, this property is situated along white-sand beaches, which encourages visitors to leave the confines of their room and soak up the sun. This resort also has volleyball courts and an outdoor pool for those who choose to remain more active while on their holiday break. Individuals opting for a more sedentary retreat can take advantage of its salon and spa options and emerge from their trip relaxed and refreshed. In addition to feeling satisfied and rejuvenated at the conclusion of their trip, IHG guests will be similarly pleased with the realization that they've just completed the holiday vacation of their dreams.
---

---
Capitalize on these and other incredible InterContinental Hotels Group discounts now available to market through the FlexOffers.com network!