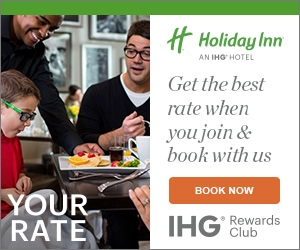 Prices on hotel accommodations can rise dramatically during the holidays but, through the InterContinental Hotels Group affiliate program, travelers can find first-class lodging at discount prices wherever they are in the world. Whether planning a romantic getaway or a trip to re-unite with family and friends, the InterContinental Hotels Group is guaranteed to deliver solutions that cater to each of its guests' unique needs.
Don't miss your chance to promote these InterContinental Hotels Group holiday deals now available at FlexOffers.com!
---
Book & Save on Your Family's Getaway Early with Your Rate!
Book Fall Travel Early and Save up to 30% at Crowne Plaza Properties!
Give the gift of travel. Save at least 25% now until 11/30 when you book with IHG.
---
Despite being at the precipice of widely celebrated holidays, your readers can still lock in affordable rates at IHG.com. While customers will certainly enjoy true hospitality during their stay with InterContinental Hotels Group's 5,000-plus properties, they'll absolutely jump at the opportunity save considerable cash during the holiday months. Currently, at IHG.com, vacationers can save up to 30 percent on reservations at the Crowne Plaza Orlando Universal, which features courtesy shuttle service to iconic theme parks and tourist attractions and amenities such as fine dining, meeting spaces for business professionals, and daily complimentary continental breakfast.
By marketing the InterContinental Hotels Group affiliate program on your site, your web traffic can begin creating exhilarating, memorable experiences around the globe. Whether visiting family domestic or abroad, the InterContinental Hotels Group's reach spans nearly 100 countries, granting holidaymakers access to luxurious hotels at prices that won't break the bank. In addition to taking advantage of existing markdowns on hotel stays across it's 13 reputable brands, IHG ® Rewards Club members can earn up to 5,000 bonus points with each reservation by registering for their Bonus Points package. By accumulating points rapidly, IHG ® Rewards Club members can earn and maintain "Elite" status which qualifies them for potential upgrades to a sumptuous suite for the holidays.
---
Book early and save on a romantic getaway to Paris using Your Rate.
Book Your Holiday Vacations NOW & Save up to 15% with Your Rate!
Book early and save up to 15% with Your Rate. The best deal, plus all the benefits you love when you book directly with Holiday Inn Express.
---
If the lovebirds among your audience, are looking to escape the frigid temperatures throughout the Northern Hemisphere, then they'll flock to secure InterContinental Hotels Group's holiday deals on warm-weather destinations. By booking early through IHG.com, your patrons will find bargains on beachfront properties in Aruba, Mexico, and the Cayman Islands that offer a tranquil environment for couples to relax and connect for 15 percent off regular price. For the not-so-sedentary sweethearts, the InterContinental Hotels Group's properties are equipped with staff-members capable of helping guests find interactive tourist attractions and activities.
No matter where your site visitors' travels may take them during the holidays, they'll still be privy to service that makes them feel welcomed and truly valued. The InterContinental Hotels Group prides itself on affording jetsetters exceptional comfort and convenience to ensure that their next hotel stay and beyond is booked through IHG.com. Emblematic of the InterContinental Hotels Group's expedience are its Hotel packages that create an ecosystem that gives premium bonuses to rewards members for treating themselves. The InterContinental Hotels Group gifts its guests 1,000 bonus points per night or excursion booked through IHG.com and 10,000 points for making reservations at a new or featured hotel. In a matter of days, newly-minted rewards members can begin using recently accrued points towards discounts of up to 30 percent off on their next holiday getaway.
---

---

Capitalize on these and other InterContinental Hotels Group Holiday Deals now available to market through the FlexOffers.com network!