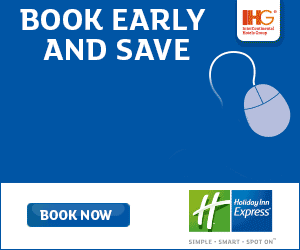 Labor Day is upon us, which means now's the time for nine-to-fivers to take a breather and step away from their work tools for the duration of the three-day weekend. While many employees will opt to stay home for Labor Day, it can become nearly impossible to dodge household chores during their well-deserved time off the clock. Thankfully, the InterContinental Hotels Group boasts a bevy of discounts that allow them book hotels that perfectly suit their needs and momentarily avoid tasks awaiting them at home.  Provide business professionals an opportunity to fully take advantage of their days off by marketing these InterContinental Hotels Group Labor Day getaways now available to promote on FlexOffers.com today!
---
IHG Save 15% on your Labor Day getaway
Book early and save up to 15% with Your Rate. The best deal, plus all the benefits you love when you book directly with Crowne Plaza Hotels & Resorts.
Holiday Inn – Save 15% with Your Rate Advantage Pricing
---
If your goal is to optimize rest and relaxation this Labor Day weekend, then you needn't look any further than the InterContinental Hotels Group. At IHG.com, patrons can peruse and choose from a bevy of hotels featuring amenities guaranteed to reinvigorate its guests while they're away from the office. Whether traveling domestically or abroad, staycationers can find spas, beaches, and renowned restaurants that deliver extreme comfort and satisfaction throughout its massive list of top destinations. Currently, at IHG.com, customers traveling to commemorate Labor Day can reserve rooms in over 5,000 hotels and nearly 100 countries at prices even the most budget-conscious can appreciate.
The InterContinental Hotels Group boasts 14 brands capable of catering to vacationers in their own distinct way without compromising its uniformed approach to true hospitality. Emblematic of IHG's sterling customer service is its willingness to accommodate each patron irrespective of their budget and/or travel needs. Globetrotters in search of a reprieve from the daily grind can take a load off this Labor Day by identifying lodging that presents them a plenitude of pleasure such as the beaches of Miami's Crowne Plaza South Beach – Z Ocean Hotel and full-service spas at the Kimpton Buchanan Hotel in San Francisco. When booking through IHG.com, travelers can save up to 15% on their Labor Day getaway and experience opulence and support that makes them feel welcomed and valued wherever they are in the world.
---
Plan a romantic getaway. Members save up to 15% in select cities.
Where will you go next? Members save up to 15% in Orlando. Find trip ideas, hotel deals and more.
Taste the best of the city! Save up to 15% in foodie destinations.
---
A Labor Day sabbatical can serve as an opportunity for lovebirds to reconnect with their spouse. Couples will also have an opportunity to further their bond through the InterContinental Hotels Group's entertainment options. By making reservations at IHG.com, excursionists will find a unique blend of activities that combine fun and relaxation to serve as the perfect accompaniment to their stay. IHG also offers in-house cuisines from prominent chefs, which significantly shortens the amount of time its visitors spend making dining reservations and subsequently affords soulmates more time to rediscover one another.
InterContinental Hotels Group's mission is to create hotels that tourists love. As a result of its collection of properties located near major tourist attractions, IHG has become synonymous with family fun. Despite being surrounded by world-famous theme parks, the Holiday Inn Resort Orlando Suites provides lodgers with onsite fun for the entire family. Following its recent $30 million renovation, the Holiday Inn Resort Orlando Suites now includes a waterpark and over 700 newly remodeled suites. Children will also be granted access to its 4-D theater, redemption arcade, and Bank Heist Laser Challenge. While this resort goes to great lengths to preserve each child's unbridled enthusiasm, they certainly did not forget about the adults. Moms and dads can take refuge at the Hideaway Lounge and unwind with their favorite drink in hand to briefly escape the rigors of their daily routine during Labor Day.
---

---
Capitalize on these and Labor Day getaways from InterContinental Hotels Group now available via FlexOffers.com!