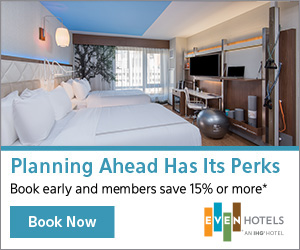 With Mother's Day right around the corner, time is running out to make travel plans that mom will cherish more than an overpriced brunch or a jewelry set that doesn't particularly match her style.
What will match her style is a surprise weekend getaway to somewhere truly special she'll appreciate, which InterContinental Hotels Group can help facilitate.
---
This is how business travel should feel. Members get the best deal, plus all of the benefits they love, when the book directly with IHG.
Book early and save up to 15% at InterContinental Hotels & Resorts
Uncover the ultimate gourmet cities. Members save up to 20% in select destinations especially for foodies.
---
If your mom is anything like mine, a laid-back beach vacation to the Florida Keys will do wonders for reducing her stress levels. IHG happens to have a luxurious Crowne Plaza hotel located on world-famous Duval Street, which is right in the heart of the area that the Keys' free-spirited inhabitants and residents take to almost every night. Sleepy weekend mornings, delicious seafood, and a slice of chocolate-dipped Key Lime pie from Kermit's Key West Key Lime Shoppe rounds out what could be an unforgettable Mother's Day in the Keys.
On the opposite coast of the US, coordinating a Mother's Day weekend in the Napa Valley region is a surefire way to become the favorite child. You can book rooms in Napa Valley that cater to different budgets in the coming weeks due to all the properties that IHG has in the area, allotting more cash for fine dining experiences and exclusive winery tours. Mother's Day will go any way but sideways in wine country, and mom will be sure to gloat to all her friends about it.
---
Thanking those who serve. Enjoy our Military Discount when you book a stay at Staybridge Suites, an IHG hotel.
Enjoy our senior discount when you book a stay at Candlewood Suites, an IHG hotel.
Where will you go next? Members save up to 15% in New York City. Find trip ideas, hotel deals and more.
---
After Mother's Day, the summer travel season really kicks into high gear. Be it a Father's Day vacation or gift for recent high school or college grads, there will be lots of people looking for incredible getaways in the coming months. Again, InterContinental Hotels Group has a multitude of answers for anyone wondering where they should be heading.
Young co-eds looking to enjoy themselves before grad school begins can find affordable places to book at IHG.com everywhere from Mexico to Amsterdam. For families who want to book a top-tier Father's Day fishing trip, consider how much fun it will be to cast a few lines with him in Australia or Hawaii. Whether he lands a big catch or not, he'll likely enjoy himself enough to not particularly care.
---
---
There are so many upcoming travel opportunities to capitalize on, it only makes sense to work with InterContinental Hotels Group, one of the top companies in the industry. Make the most of their enticing discounts available through the FlexOffers.com network today; mom will be proud you did!