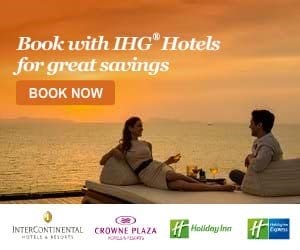 The holidays are just around the corner and lovebirds around the globe will assuredly be seeking travel accommodations that suit their relationship and their budget. Whether embarking upon a tropical vacation or embracing cool climates by way of a Nordic adventure, the InterContinental Hotels Group offers a myriad of hotels and resorts that serve as the perfect accompaniment to each couples' traveling agenda at a discounted rate. Don't miss your chance to promote these InterContinental Hotels Group romantic holiday destinations now available at FlexOffers.com!
---
---
A holiday getaway can go a long way toward helping lovers ignite or recapture the fire and desire between them. However, booking shoddy hotel accommodations is a surefire way to douse any semblance of a romantic flame. If your site visitors and their companion wish to set the passion in their relationship ablaze during a romantic holiday retreat, then they needn't look any further than the InterContinental Hotels Group. The InterContinental Hotels Group boasts 14 hotel brands that span nearly 100 countries. Each brand possesses its own unique flare which allows guests to pair their lodging with surrounding excursions or activities to create the holiday vacation of their dreams.
The InterContinental Hotels Group has over 5,000 properties dedicated to delivering "True Hospitality" that makes vacationers feel welcomed and valued wherever they are in the world. No matter where your page viewers may travel to reconnect with their partner for the holidays, they'll be afforded the opportunity to capture the true essence of the destination they've chosen. Thanks to the strategic placement of IHG properties, each location permits tourists to immerse themselves in local traditions while experiencing high-end service and luxury at prices even the most budget-conscious consumer can appreciate. Currently, at IHG.com, the sweethearts among your audience can join the IHG Rewards Club and save up to 15% on their romantic escape in select cities.
---
---
By booking a steamy getaway for two at the InterContinental Luxury Fijian Golf Resort and Spa at Natadola Bay, your web traffic can enjoy a bevy of spa treatments that range from modern to conventional relaxation methods. Participating spouses will be privy to remedies containing indigenous plants and herbs that have been used as stress-relieving agents for generations. Spa InterContinental possesses a unique blend of Asian, Eastern, and Western techniques that bring balance to one's mind, body, and soul. Its signature packages are comprised of an assortment of massages, therapies, and hydrating body oils that leave skin sumptuously soft and tempting to touch.
Following a couple's massage, your patrons may have difficulty refraining from canoodling their better half while in the public eye. In an effort to prevent onlookers from rolling their eyes whilst thinking to themselves, 'Get a room,' twosomes can oblige spectators' gestural requests by retiring to a room featuring an ambiance befitting for couples. Through IHG's Romantic Escape package travelers can add a touch of romance to their stay and receive a bouquet of flowers, sparkling wine, and a box of chocolates, to enjoy while spending time with that special someone during the holidays.
---

---
Capitalize on these and other incredible InterContinental Hotels Group discounts now available to market through the FlexOffers.com network!