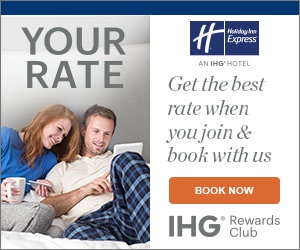 With spring break only a few weeks away, now's the time to revamp your site with enticing links and banners from one of the global leaders in hospitality, InterContinental Hotels Group. Whether going back to Cali or headed off to Bali, your readers will be able to find incredibly low rates on high-quality rooms through this affiliate program.
Don't miss your chance to capitalize on these InterContinental Hotels Group spring break 2019 savings available to promote on FlexOffers.com today!
---
Save 15% on your Spring Break Getaway with Your Rate!
---
Unlike the attendees of the notorious Fyre Festival, no matter where your audience members go when they book a room at IHG.com, they know they'll be staying in comfort and style this spring break. The company boasts over 5,000 properties in nearly 100 countries across familiar brands like Crowne Plaza, Staybridge Suites, and a dozen others. That global reach ensures that their hotels and resorts can cater to guests with any budget, including those that frequent your website on a daily basis.
Instead of pooling together loose change to afford a room elsewhere this spring break, college students can instead look to the InterContinental Hotels Group for discounts on their dream destinations. If they act fast, your site visitors may be able to secure a room at the affordable Holiday Inn Express in the popular South Padre Island, Texas area or just down the road in Brownsville. If they want to live it up instead in Panama City, Santo Domingo, or San Juan, IHG has a presence and property there as well
---
Book early and save on a romantic getaway to Aruba using Your Rate.
Book early and save on a romantic getaway to Cancun using Your Rate.
---
Couples looking to get away this spring also have a lot of options available to them when they choose IHG. Guests can save when they book rooms in advance in places like Aruba and Cancun, which offer a welcome change of pace far different than their daily routines. Even if only for a few days, their troubles will melt away when they stay with IHG.
Families who want to have fun this spring break can take advantage of the inexpensive room rates offered via InterContinental Hotels Group too. There are numerous hotels across the United States close to the top theme parks in Florida, California, and Ohio that will be as thrilling to find as going on any roller coaster ride. With all the money they'll save, parents may even be able to afford a few extra days away with the kids to make spring break memories that will last a lifetime.
---
---
Make the most of these spectacular spring break discounts from IHG now on the FlexOffers.com network!