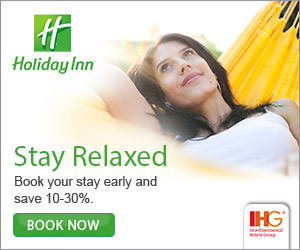 If you can hear a low, steady rumbling in the air, chances are it's not an impending natural disaster- it's spring break. Millions of college students will be swarming beaches in the coming weeks, making it a profitable time to promote affordable hotel accommodations.
Set your website up to make some incredible sales with InterContinental Hotels Group spring break bargains now available at FlexOffers.com!
---
Up to 30% Off our rates for Room only or Room with breakfast. IHG Rewards Club Members get an Extra 5% Off!
Discover luxury for less, Best Price Guarantee or your first night is free
Treat yourself with a fantastic package for every escape in Mexico, Latin America or Caribbean at IHG properties.
Staybridge Suites® hotels are perfect for weekend getaways, so take advantage of special weekend rates! Long live weekends!
---
Many college students have it rough when it comes to expenses, be it covering textbook costs or their own tuition. As such, the variety of InterContinental Hotels Group properties serve as the perfect places for revelers with a range of disposable income to book a room during their temporary escape from reality.
Looking to live it up in Ft. Lauderdale? Your readers can reserve an IHG room there. Want to stay at South Padre Island? Inexpensive lodging is available there as well. Any of your patrons going all-out and heading to Spain can spend a few nights in Madrid before their unforgettable experience in Ibiza. Wherever there's fun to be had this spring break, InterContinental Hotels Group is there.
---
Book the Tourist Adventure Package for your next vacation at a participating Staybridge Suites hotel and go experience all the city has to offer.
The InterContinental Hotels & Resorts fantastic escapes allow every member of your family to enjoy the finest service, a beautiful location to explore and a variety of activities from which to choose.
Members of the AARP members receive a minimum of 10% off regular rates at Staybridge Suite locations. See site for details.
---
All that being said, there's more to spring break than just college freshmen getting sunburnt on the shore. Grade school children are usually on vacation as well during this time, offering families a great opportunity to make some memories together.
The InterContinental Hotels Group affiliate program caters to all types of travelers, including families who want the best experience possible for their loved ones while adhering to a particularly tight budget. Senior citizens, who have certainly earned a few days of relaxation themselves, can also capitalize on discounted pricing through IHG.com. Even if your core audience doesn't consist of young adults per se, there are still plenty of profitable opportunities available to those who promote InterContinental Hotels Group. 
---
---
Don't leave your readers stuck indoors this spring break; promote these and other top offers from InterContinental Hotels Group today!