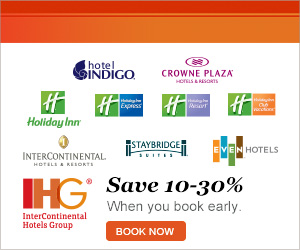 Though the winter chill still has a hold on your audience, many of them are already making their travel plans for spring. With thousands of properties around the world, the InterContinental Hotels Group is the hallmark for hospitality that your readers have been eagerly looking for.
Take advantage of these InterContinental Hotels Group spring travel savings available to promote on your site via the FlexOffers.com network!
---
The city never sleeps, but you should. Get the best price on hotels with the special Explore New York rate.
Members save up to 20% in select cities. Find trip ideas, hotel deals & more.
---
As fun as it is to frolic in the snow for a few minutes, months and months of the powdery nuisance can take a toll on anyone's patience. That's where the InterContinental Hotels Group affiliate program comes in, with locations in temperate spots like the beautiful city of San Juan in Puerto Rico, Buenos Aires in Argentina, and beyond.
Rather than waking up early in the morning to shovel snow, your patrons can sleep in and kick around sand while lounging on the beach with a drink in their hand. In addition to their idyllic environments, InterContinental Hotels Group properties also offer amenities like gourmet dining and lively bars on-site. When retreating from one's adventure, if only for a short while, it's comforting to know that food and fun is a short distance away.
---
Pack the entire family! Members save up to 20% on kid-friendly vacations in select cities.
---
InterContinental Hotels Group knows how important value is to each and every one of their guests. With that in mind, their brand includes a wide range of hotels that can cater to people on any budget, from families visiting thrilling theme parks to workmates spending a week away from home to impress clients at an industry convention. Whatever the reason, IHG has its guests covered.
Professionals who want an environment in which they can conduct business already know about the benefits of holding their meeting at an InterContinental Hotels Group property. Their staff excels at organizing meetings, be it reserving rooms for presentations or suites for guests to retreat to afterward. Your web traffic can leave the lodging logistics to IHG, and focus on landing that account that will take their careers to the next level.
---
---
Book these and other engaging deals from the InterContinental Hotels Group affiliate program through FlexOffers.com today!