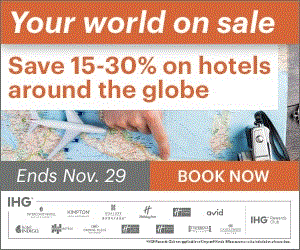 With Thanksgiving taking place next week, many of your audience members are scrambling to secure their travel plans to visit friends and family members they've not seen in a while. As far as discounts on lodging go, IHG is offering engaging rebates on properties across the country and further still that savvy publishers will definitely want to promote on their sites.
Make the most of these InterContinental Hotels Group affiliate program promos, now available on the FlexOffers.com network!
---
The World. Now on Sale. Shop Your World Sale from IHG® Rewards Club to save 15-30% off destinations across the globe for a limited time.
Where will you go next? Members save up to 15% in New York City. Find trip ideas, hotel deals and more.
Members save up to 15% in select kid-friendly cities. Time to plan your family vacation!
---
15% to 30% markdowns on room rates in the US, Canada, and Latin America at ihg.com will certainly turn heads and, more importantly, convert clicks this holiday season. Considering how much a family of four can spend on flights and vehicle rentals before booking their hotels, these substantial savings are a welcome sight.
Rooms in many popular destinations are on sale this winter through IHG.com, including New York, Boston, and Atlanta. While travelers have a better chance of see snow the further north they go, each of these huge cities are likely filled with loved ones that your patrons will want to reconnect with over a Thanksgiving plate. It's worth the trip for the memories alone.
---
Book early and save up to 15% with Your Rate. The best deal, plus all the benefits you love when you book directly with IHG.
Where will you go next? Members save up to 15% in Boston. Find trip ideas, hotel deals and more.
Taste the best of the city! Members save up to 15% in select foodie destinations.
---
For individuals that want to go the complete opposite route of the traditional family fare this winter, the InterContinental Hotels Group affiliate program can take care of them too. Sunny South America and the Caribbean are consistently considered when taking a break during this time of year, thanks to their climate, atmosphere, and outright lack of family drama. The serene silence that can be experienced on a tropical beach during December is a holiday gift that even Santa can't deliver in his red satin sack.
Jetsetters who want to see the winter holidays through the cultural lens of another country have the opportunity to do so affordably when they reserve their room via IHG.com. The familiar face of Father Christmas may not be front and center in parts of Europe or in Asian-Pacific locales, but the spirit of love and generosity that the figure represents during this time of year is felt practically everywhere.
---
---
No matter their budget or locale, the InterContinental Hotels Group can accommodate your readers this winter. Market these IHG deals on your landing page today via FlexOffers.com!