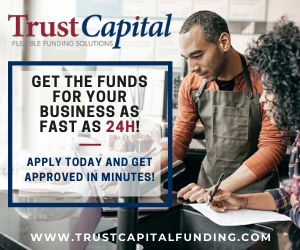 International Day of Friendship is the perfect time to forge new alliances across a variety of cultures and celebrate existing relationships. Grant your page viewers the opportunity to commemorate each and every connection they've created through these International Day of Friendship Bargains now available on the FlexOffers network!
---
It's not unusual for friends to become business partners. By registering with Trust Capital Funding, the entrepreneurs among your audience can team up with their best bud to create the booming business they've always dreamed of. Trust Capital Funding is a flexible funding program capable of approving small business owners for the funding they need to grow their organization. Applicants can receive their quote in a matter of minutes and obtain the funds they need in as little as a few days, without effecting their credit score.
Get Funds in as Little as a Few Days! Get a Quote in minutes – it won't impact your credit score!
---
Maintaining relationships takes effort and a willingness atone for potential misgivings, and the preservation of one's skin is no different. With a purchase of StriCura Advanced Formula, beauty seekers can turn back the hands of time on their skin and reverse the effects of aging through its proprietary blend of peptides and botanicals. This unique blend of natural ingredients improve skin tone and elasticity, and reduce fibre fragmentation.
Get 50% OFF StriCura Stretch Mark & Wrinkle Solution w/ Code: Stri35
---
International Day of Friendship was constructed with the intent to give individuals the opportunity to intentionally enhance the lives of others. Through the Club Monaco affiliate program, style enthusiasts can peruse clothing that exemplifies ideals associated with International Day of Friendship. Club Monaco's garments are designed to add value to the lives of its customers, which subsequently allows them to live a life with ease.
End of Season Sale: Up to 50% Off All Sale Styles. Valid 7/15/20-7/29/20.
---
Whether in search of casual or formalwear, Alice + Olivia offers clothing befitting for all walks of life. Alice + Olivia, inventory is comprised of clothing that features a variety of colors and prints, certified to celebrate, and promote cultural awareness. Emblematic of its diverse fashion portfolio is the Lynn reversible floral kimono. This reversible kimono affords fashionistas the luxury of two amazing layers in one, which aids fashion gurus in their quest to unlock the Rockstar within.
Flash Sale: Take 25% off select dresses – including our new summer styles!
---
Celebrating diversity is the quintessence of International Day of Friendship, and through the Saks Fifth Avenue OFF 5TH affiliate program, your site visitors can do just that. Saks Fifth Avenue OFF 5TH houses clothing from Italian and French designers at a discounted rate. For a limited time at Saks Fifth Avenue OFF 5TH, customers can save up to 40% off Giambattista Valli, Herve Leger, and Roberto Cavalli to achieve their desired aesthetic.
The Designer Event: Extra 40% OFF*. Look vibrant and stylish in Giambattista Valli, Herve Leger, Roberto Cavalli and more. Use code GLAMMEDUP. Shop Now!
---
Capturing the essence of one's culture oftentimes includes preparing dishes that are staples of their respective communities. If your readers plan on organizing a gathering consisting of old and newfound companions for International Day of Friendship, they can certainly benefit from Macys.com cookware options. Now at Macys.com, foodies can save up to 25% off mixers and blenders guaranteed to hasten the food preparation process.
Extra 20% Off + Up to 50% Off Home Sale with code SAVE.
---
Capitalize on these International Day of Friendship bargains through the FlexOffers.com network!