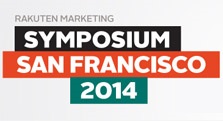 FlexOffers.com is headed to the Rakuten Marketing Symposium San Francisco 2014!
Though it feels like we just got back home from the last conference, we are excited to be on our way to the Intercontinental San Francisco for a few days of networking from January 29th to January 30th.
This is a networking event for Advertisers and Publishers in the Rakuten Marketing Network where meetings take place related to driving sales for Advertisers and driving commissions for Publishers. It is also an opportunity to learn about the Rakuten Marketing Network and about the industry in general. (LinkShare.com)
---
FlexOffers is determined to have an excellent showing at the Rakuten Marketing Symposium San Francisco following our exceptional placement in the Revenue+Performance Top 20 Affiliate (CPS) Network 2014 survey. This conference will give us yet another opportunity to work with our publishers and advertisers face to face, as well as forge powerful new relationships within the industry.
The FlexOffers.com team members that will be in attendance include:
• Juan Gomez, Director of Affiliate Marketing
• Jennifer Gutman, Affiliate Manager
• Gus Brito, Director of Network Development
If you'd like to meet up with us during the event, please contact us at [email protected].