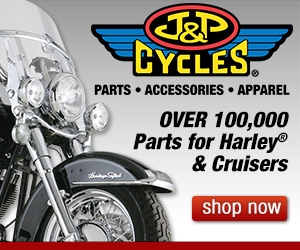 Boasting 35+ years of experience, J&P Cycles is by far one of the most trusted names when it comes to motorcycle parts and accessories. Whether dressing up your cruiser or adding serious speed to your sportbike, they have the aftermarket pieces you'll need to get back on the open road.
Now during their 10 Days of Christmas Sale, it's never been a better (or more affordable) time to ride right to jpcycles.com.
---
Find the perfect gift for the motorcycle enthusiast on your list this year by shopping our J&P Cycles Gift Guides.
10% OFF Hogworkz products with code HW17 during the J&P Cycles 10 Brands in 10 Days Sale. Hurry, this offer is valid only 12/6 Only.
10% OFF TC Brothers products at J&P Cycles with code TCB17. Hurry, offer only valid on 12/07. Shop and save.
---
As with any motorized ride, wear and tear are expected with regular use. When you go through J&P Cycles to buy your replacement parts though, you're also purchasing peace of mind. The job can be something as simple as replacing worn brake pads or as intricate as rebuilding an engine, but either way, J&P Cycles is the way to go.
Depending on the day that you visit jpcycles.com during their 10 Days of Christmas sale, you'll find savings on products from a specific popular parts manufacturer. TC Brothers, BDL, and Hogworkz are among the brands that will all see their prices discounted, making it worthwhile to check back in every day to get the best deals for the components on your holiday wish list.
---
10% OFF First Manufacturing with code FM17 at J&P Cycles during their 10 Brands 10 Days sale. Hurry, offer only valid on 12/8 Only.
10% OFF BDL products with code BDL17 at J&P Cycles. Offer valid 12/9 Only. Shop and save!
10% OFF Milwaukee Twins products at J&P Cycles one day only on 12/10. Use code MT17 at checkout and save.
---
If you know someone who rides motorcycles or happen to do so yourself, then you know how particular each bike can act when a part is replaced. As such, randomly choosing component brands to upgrade a bike may not be the best route to take when it comes to shopping for a gift. For those generous holiday shoppers with the best intentions but limited bike knowledge, J&P Cycles has you covered.
In addition to some of the very best high-quality aftermarket motorcycle parts available online, jpcycles.com also sells a robust selection of stylish apparel and safety gear. Their aptly named Gifts that Don't Suck Holiday Gift Guide features t-shirts that can serve as stocking stuffers, leather jackets that will be show-stoppers, and lots of other items for men, women, and kids. Santa won't have to go far to finish off his list as there's something for everyone at J&P Cycles.
---
---
Don't get left in the dust this December! Take advantage of J&P Cycles' 10 Days of Christmas sale today!