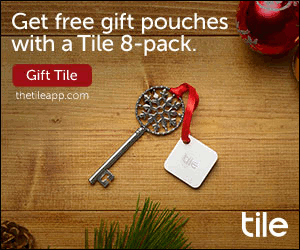 If your readers are constantly losing things due to their frantic schedule, then they need the Tile Bluetooth tracker in their life. When attached to the items they use on a daily basis, Tile saves time and stress by helping to find them in a hurry.
Keep track of life with Tile and these discounts currently available on FlexOffers.com!  
---
Save up to 35% on the Gift Bundle 8-pack and get free gift pouches!
Save on the Gift Bundle 8-pack and get free gift pouches!
Lose less of everything, including your valuable time with Tile
---
Imagine finally getting the kids up from bed on a weekday, feeding them breakfast, driving them halfway to school, and then realizing your smartphone is nowhere to be found. What if there's a call from the office? What if a family member needs your help? Rather than panicking, a simple click of the Tile device on your key ring can cause your phone to ring, even if it's on silent. That will save considerable time locating a phone misplaced throughout their home or accidentally under the seat of their car.
Tile users who are unable to locate their phone in this scenario still have other means of searching for it. Users can tag an item lost by logging into the intuitive Tile app. If there are other Tiles in the vicinity, the position of the lost item will be triangulated and reported back to its owner. It's community cooperation at its finest.
---
Save over 15% on the Tile Combo 4-Pack
Tile is a tiny Bluetooth tracker that finds your keys, wallet, phone, anything. Shop now and save up to 35%.
---
Should your site visitors plan on traveling or going to any holiday parties in the coming months, then they'll be glad they had Tile.
Airport parking lots are crowded, dangerous, and filled with too many cars that look like your own. With a Tile Mate or Tile Slim tucked in the vehicle's visor, you'll be able to spot your phone without circling the lot using the Tile app. The same logic can be used to locate a car parked downtown after a night out, where time and safety is also a concern. A quick check of the Tile app can help your audience members determine exactly where it is that they parked, making it faster and easier to get home safe.
---
---
Even if your web traffic isn't constantly wandering around and searching for their lost keys, there will always be a situation in which Tile will come in handy. Capitalize on these Tile deals via the FlexOffers.com network today!