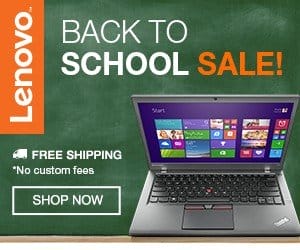 While many students are at the precipice of another school year, it's still not too late to find discounts on tech items that help them successfully navigate the next grade level.
Grant your site visitors access to merchandise that significantly enhances efficiency by promoting these last-minute back to school tech bargains now available on the FlexOffers network today!
---
By promoting the Lenovo USA affiliate program on your site, the scholars can peruse a multitude of laptops that aid them in their quest to enhance productivity. Lenovo.com offers laptops such as the Flex 14 equipped with 8th Generation Intel® Core™ i5 processing which provides users a smoother multitasking experience. The Flex 14 also delivers up to 8 hours of battery life, suitable to accompany students to and from the classroom for the duration of an entire school day.
72 hours only, save an EXTRA 10% off most products sitewide! Use code B2SCHOOL10
---
Texting and talking to friends on the phone for hours on end during the summer is extremely common for kids. However, the parents among your audience might prefer to limit their child's screen time during the school year to facilitate increased focus on academic endeavors. Thankfully, Tello | Mobile presents customers the option to chose between four ready-made phone plans or build their own plan with no contractual obligation, at a discounted rate. As a result of Tello | Mobile's flexibility, subscribers can reconfigure their plan at will without penalty to give their favorite student a plan that guarantees the appropriate amount of pleasure and prosperity.
Save Big on Back to School With Exclusive Offers From Tello Mobile
---
If your page viewers are slated to take advanced math courses this fall but have difficulty, with symbols, formulas, and fractions, then they needn't look any further than the Staples affiliate program. At Staples.com, future mathematicians can find the Texas Instruments TI-84 Plus graphing calculator which allows them to solve complex equations in a matter of seconds. The TI-84 Plus graphing calculator also enables data transfer from a computer, allowing students to place graphs over important documents.
Staples Back to School Center. Everything They Need For The Best Year Yet at Staples.com!
---
Book reports and home projects are imminent but allowing a home printer to run out of ink no longer has to be. Through the Office Depot and OfficeMax affiliate program, your patrons can schedule ink and/or toner to be delivered to their front door to make certain they're able to print off their assignments at their convenience. Currently, at OfficeDepot.com, shoppers can save up to 20% off Office Depot brand ink and Toner and save money and reduce the number of trips to their local copy center.
Save up to 20% on Office Depot Brand Ink and Toner vs. National Brands
---
Losing homework to a virus is no more of a valid excuse than "the dog ate my homework," and by registering with Malwarebytes, your web traffic can thwart all cyber hazards that pose a threat to their productivity. Malwarebytes blocks malicious websites, malware, ransomware and hackers that traditional antivirus software may fail to recognize. This antivirus software is also available in Android, IOS, Mac, and Windows platforms to help students work comfortably and confidently throughout the year.
Malwarebytes Back to School Sale – Discounts for Students!
---
It's not uncommon for students to need a jolt of energy at the end of a long school day, and their electronic equipment is no different. Fortunately, eBags inventory houses SwissGear backpacks with Lifeboat Quick Charge Battery, capable of giving their phone or laptop a strong charge to finish the day. For a limited time, your readers can save up to 50% off SwissGear backpacks and receive free shipping on all orders over $49 at eBags.com.
Save Up To 50% Off SwissGear Backpacks Plus Free Shipping Over $49 at eBags.com!
---
Market these last-minute back to school tech bargains now available on your landing page via FlexOffers.com today!